High-Ranking Cardinal Returns to St. Jude's in Westlake

By Jean Ortiz jortiz@VenturaCountyStar.com
Ventura County Star [California]
August 7, 2006

http://www.venturacountystar.com/vcs/co_valley/article/0,1375,VCS_166_4899474,00.html

They packed the church pews Sunday, clutching digital cameras, eager to glimpse an old friend now considered the highest-ranking American in the Roman Catholic Church.

Cardinal William J. Levada came with gold vestments, a miter and a warm smile to greet the congregation at St. Jude's Catholic Church in Westlake Village, returning more than 30 years after he lent a hand to the then-upstart church.

"I come with a great sense of gratitude," he said, noting how the experience helped shape him as a priest.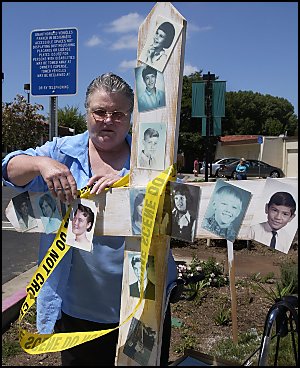 Vicky Martin, among those protesting outside St. Jude's church Sunday, attaches an old photo of herself to a makeshift cross covered with photos of reported sexual abuse victims.
Photo by Eric Parsons / Star staff


Levada, who also taught theology at St. John's Seminary in Camarillo decades ago, is settling into his new position as the prefect of the Congregation for the Doctrine of the Faith — the church's principal defender of all moral and theological doctrine. He also acts as the chief prosecutor against those who have violated church values, including clergy involved in the sexual abuse scandal.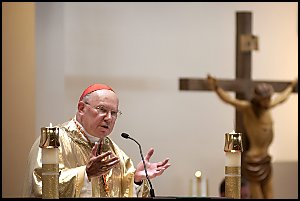 Cardinal William J. Levada visited St. Jude's Catholic Church in Westlake Village on Sunday.
Photo by Eric Parsons / Star staff


The California native succeeded Cardinal Joseph Ratzinger, who became Pope Benedict XVI in April 2005. The position is considered the most influential within the church, short of the papacy.

In his opening remarks, Monsignor William Leser, the church pastor, noted the handful of protesters outside the church who had come to bring attention to the sexual abuse scandal.

Leser acknowledged that some members of the clergy have failed, but asked Levada to deliver an important message to the pope.

"Most of our brothers have been very faithful," he said, looking up and down the line of his fellow celebrants. "We want His Holiness to know that."

Those who turned out for the quiet protest said they had hoped for a prayer for the victims. Leser's words were "heartbreaking," said victim advocate Mary Jane McGraw of Oak Park.

McGraw and the others said they were tired of the attention paid to the few priests responsible and instead wanted more attention on the numerous victims and what more will be done for them.

They stood at the entrance to the church's parking lot before the service with a wooden cross covered with pictures showing victims and passed out leaflets to churchgoers.

While not their first protest, it was their first outreach to Levada, who has a clear awareness of the issue, McGraw said.

"Now that Levada is there, hopefully we will have more potential to reach out to him," she said. "He speaks our language. He was born in Long Beach. He said Mass in my local church. He knows who we are and that we are truly, deeply concerned Catholics."

The group drew little reaction from churchgoers, who were focused on welcoming their visitor.

Grace Johnson of Westlake Village waited in the parking lot before the service, eager to catch a moment with "Cardinal Bill," as she called him.

"It's just wonderful," she said of her longtime friend's return.

"I predicted 35 years ago that he'd be cardinal," she said.

She reached into her purse, producing a photo card of Levada in Rome that commemorated his being made a cardinal in March.

She keeps a stack on hand and passes them out whenever she gets a chance, she said.

"He's just perfect for this mission," she said.