Defrock Priest, Bishop Says
Ronald Fabbro Says He Will Petition to Have Charles Sylvestre, Who Sexually Abused Girls for Decades, Dismissed As a Priest

By Jennifer O'Brien
London Free Press [Canada]
August 7, 2006

http://lfpress.ca/newsstand/News/Local/2006/08/07/1722513-sun.html

Chatham -- In an unprecedented apology, Catholic Bishop Ronald Fabbro said yesterday he will petition to have a priest defrocked for sexually abusing at least 47 girls over four decades.

The vow came as Fabbro apologized before several of Charles Sylvestre's victims during yesterday's mass at St. Ursula's church, where some of the abuses occurred.

"This conduct over many years warrants Father Sylvestre's dismissal as a priest," Fabbro said.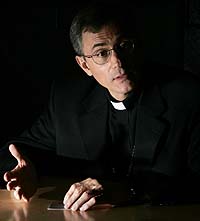 Bishop Ronald Fabbro speaks after delivering his unprecedented abuse apology in Chatham yesterday.
Photo by DEREK RUTTAN, The London Free Press


"As the Bishop of the diocese of London, I will petition Rome for the laicization of Father Sylvestre."

The moment was too much for one of Sylvestre's victims, who briefly bolted from the church.

Reaction from other victims varied, with some refusing to enter the church. Some cried, but another said it was healing.

"It was more than I thought it would be. It was very sincere," said Irene Williams.

Though no longer a practising Catholic, Williams asked for a blessing from the bishop. "I needed that," she said.

While encouraging any victims of sexual abuse in the church to come forward, Fabbro said he's made it his "goal" to prevent future abuse.

"I sincerely apologize to the victims and their families, for the abuse they endured at the hands of Father Sylvestre, and for suffering the consequences of that abuse over the years."

"I apologize, as well, for the failure of the church to protect the victims and their families from Father Sylvestre," Fabbro said.

Retired and 83, Sylvestre would be unable to administer the sacraments if defrocked.

He pleaded guilty last Thursday in Chatham to 47 counts of indecent assault for abuses from the 1950s to the 80s.

His victims were ages nine to 14 at the time, while he was a priest in Windsor, Sarnia, Chatham and Pain Court.

Many victims said they reported the abuse, but all the church did was shuffle Sylvestre to other parishes.

Fabbro said he knew the apology had to be made once he listened to the stories of the victims, at the request of Chatham-Kent Crown Attorney Paul Bailey, who prosecuted the case, and court psychologist Peter Jaffe.

"In hearing the stories of the victims, I knew right away that their hearts had been broken, and it was heartbreaking for me to hear of their experiences," he said, adding he's "ready to meet personally" with any victim or family.

Fabbro said the diocese has and will continue to pay for counselling for any of Sylvestre's abuse victims.

"My goal is also to provide a way for dealing with allegations of abuse, quickly and effectively, he said.

Fabbro said he's appointed a former parish priest, John Sharp, as vicar general to help revise the diocese's policy on responding to sexual abuse complaints and be available to speak to anyone who wants to contact him.

At one point during mass, one of Sylvestre's victims, Lou Ann Soontiens, abruptly rose from her pew, rushing to the back of the church and through its heavy wood doors.

"It's just too hard," she said, standing in the lobby and wiping tears. "I want to hear what he has to say, I'm going to go back, but it's just so hard to be in here."

After the homily, many victims left the church crying. "Well, he said his thing," said one woman, bursting into tears as she hugged another.

Bailey, the Crown attorney, who attended the mass but is not a St. Ursula's parishioner, said he appreciated Fabbro's message, but it would have no effect on the court case.

He called the case "one of the worst (sexual abuse) cases in this area, and apart from residential school abuses, it is probably the worst in North America."

A handful of victims and supporters stood in front of the church, refusing to enter the place that had been the setting for their worst nightmares.

"It's too little, too late," said one woman. "I would have prefer he come to us first, but he decided to do this on his turf, and his terms."

However, it was that group Fabbro approached before the mass, offering an informal apology to those who couldn't bring themselves to go in.

"I realize some of the victims of Father Sylvestre may be here this morning and would not be willing to go into the church and I fully understand that," he said.

"I want to apologize for the failure of our church to protect children. I'm here today to pledge myself as the bishop of the diocese to do my utmost to protect the children."

Fabbro made several references of apology for the church's failure to take action against Sylvestre or any other abusive priest in the past.

"It takes great courage for a victim to make an accusation. As a church, we have benefited from the actions of victims, because they have taught us how to protect our people better," he said.

Sylvestre returns to court Sept. 22.