Church Apologises to Woman Who Says Hollingworth Ignored Abuse

ABC [Australia]
August 5, 2006

http://www.abc.net.au/news/items/200608/1707031.htm?centralwest

The Anglican Church has issued a formal apology to a woman whose sexual abuse claims led to the resignation of then governor-general Dr Peter Hollingworth.

Beth Heinrich was sexually abused as a teenager by Reverend Donald Shearman in the central-west New South Wales town of Forbes in the 1950s.

Dr Hollingworth was accused of ignoring Ms Heinrich's requests for help when he was Archbishop of Brisbane in 1995.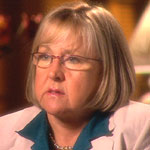 The Church says it regrets the pain and suffering it caused to Beth Heinrich.
Photo by The ABC TV



The Anglican Bishop of Bathurst, Richard Hurford, says the Church apologises unreservedly for Reverend Shearman's unethical behaviour.

He says the diocese regrets the pain and suffering caused by the Church's shameful behaviour.

"The Church failed in our duty of care - all those years ago to Beth and we are convinced that this reparation and this apology can make some small contribution to healing and hopefulness in her life," he said.

Donald Shearman has since been stripped of all orders.