Hornbuckle Trial Is the Ugliest Show in Town

By Bob Ray Sanders
Star-Telegram [Fort Worth TX]
August 4, 2006

http://www.dfw.com/mld/dfw/news/columnists/bob_ray_sanders/15197588.htm

It's the best soap opera in town, featuring religion, drugs and sex. If it were televised, its ratings surely would compete with those of daytime melodramas on the major networks.

But the trial of the Rev. Terry Hornbuckle, who is accused of sexually assaulting three women, will be seen only by those who can fit in the courtroom of state District Judge Scott Wisch.

Dozens of people were turned away on the first day of testimony Wednesday, and many would-be spectators and media representatives lined the walls outside Wisch's 372nd District Court when they were unable to get inside.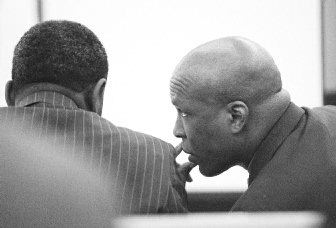 Defense attorney Mike Heiskell, left, talks with the Rev. Terry Hornbuckle, who is accused of sexually assaulting three women.
Photo by The Star-Telegram/Ralph Lauer


Those who did get to some of the nonreserved seats -- there are some seats set aside for media and family -- were reluctant to leave even during short breaks for fear of losing their places.

"No pushing! No shoving!" warned a bailiff as a herd of people pushed through the doors for the beginning of the afternoon session.

If they had come for sensational drama, I doubt they were disappointed as one woman told of being raped shortly after her 21st birthday by the pastor who had baptized her.

There seems to be no question that Hornbuckle, pastor of Agape Christian Fellowship in Arlington, is a most unusual preacher.

In and out of the pulpit, he is a flamboyant, hip-talking, "cool" minister who likes gospel music as well as rap.

According to the first witness, he was a self-described "real nigga."

"Behind the pulpit, I'm the Bishop; behind closed doors, I like to licky-lick," (i.e. have oral sex,) she quoted Hornbuckle as saying. Then, she testified, he gave her a Kool-Aid-like drink laced with a drug and took her virginity on July 31, 2004.

Based on what little I know about this preacher, from both the prosecution and his defense team, Hornbuckle is a rascal.

He is a man obsessed with power and possessed by an unquenchable urge to seduce women.

And, certainly at some points in his life and during his meteoric career as a prosperity preacher in a mega-church, he has been completely out of control.

According to his own lawyers, he has sinned greatly.

The question is -- and it is the one the jury has to decide -- is he a criminal? More specifically, is he a serial rapist who takes women into his trust, drugs them and then sexually assaults them?

Krystal Joy Buchanan, the first witness, says he is. That is what he did to her, she said. At least two other women are expected to testify that they, too, were raped by the minister.

Hornbuckle's defense will be based on the three "Cs": consent, cash and credibility.

Defense attorneys Mike Heiskell and Leon Haley will attempt to show that any sexual relations were consensual, that Hornbuckle's accusers are after money and that they all have credibility problems.

There was a time when it was customary for defense lawyers to put the accusers on trial in rape cases, but in recent years that tactic has not been used as often because it has a tendency to backfire on the defendant.

It's clear in this case that to get Hornbuckle acquitted, the defense will have to go on the attack, and Heiskell wasted no time trying to discredit Buchanan's testimony in his first few questions Thursday during cross-examination.

It was also obvious that Hornbuckle's amen corner had been waiting. Many of his supporters smiled and nodded in approval as the defense attorney tried to show contradictions in the accuser's testimony and a deposition she gave in a civil case.

While they will admit that Hornbuckle made plenty of mistakes, breaking his marriage vows and the laws of God through his womanizing, the defense lawyers will attempt to show that he was a victim of sorts when some of the women decided to take advantage of "his weaknesses and his sins."

What is playing out in Wisch's courtroom is not pretty. Before it's over we will know far more about Hornbuckle and some of the other characters in this drama than most people would ever want to know.

The scenes are compelling: the faithful wife clutching her Bible, an accuser's family drawing on one another for support, the brown paper evidence bag filled with clothing, jurors sitting on the edges of their seats.

Sadly, this is not a teleplay based on a writer's imagination.

It is real life, with real people who have real flaws, and some of them will be forever hurt by the episodes being played out in a Tarrant County courtroom.

Bob Ray Sanders' column appears Sundays, Wednesdays and Fridays. 817-390-7775, bobray@star-telegram.com