Jacquielynn Floyd: Accusers Competing with Pastor's Polish

The Dallas Morning News
August 4, 2006

http://www.dallasnews.com/sharedcontent/dws/dn/localnews/columnists/
jfloyd/stories/DN-floyd_04met.ART.North.Edition1.2befeb7.html

Fort Worth – At first, I mistook Terry Hornbuckle for one of the lawyers. He has that look: smooth and confident, meticulously dressed, an elegant note of masculine gracefulness in the way he walks.

Mr. Hornbuckle, who is on trial for three separate charges of sexual assault, seems to have a calculated appreciation for the impression he makes.

He doesn't share the slightly seedy, downtrodden appearance of other criminal defendants who have been residing in jail for a while. You get the feeling that after court adjourns for the day, he might put in an appearance at the Petroleum Club, instead of being locked up in a cell with all those crooks and creeps.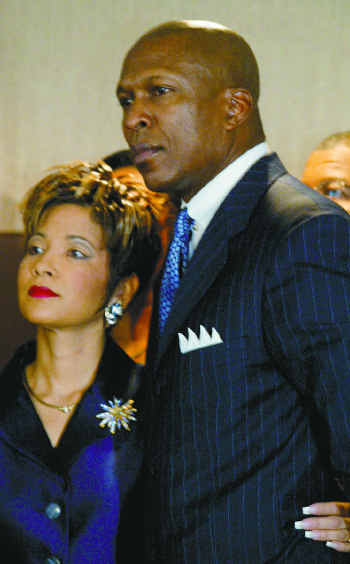 Members of Agape Christian Fellowship imitated Renee and Terry Hornbuckle's poise and flair - an impression that could be intimidating to those accusing Mr. Hornbuckle of sexual assault.


Looking at him, I started getting just an inkling of how impossible it might seem to call this man out in public, to come forth with an ugly story about drugs and lies and rape. How hard was it to challenge what even the prosecution concedes is "the handsome, charming, public face of Terry Lee Hornbuckle"?

It's hard to believe he did the terrible things he's accused of. It's also hard to believe that a woman he had victimized wouldn't be tempted to just shut up and try to forget about it.

Mr. Hornbuckle's defense attorneys readily concede their client is guilty of a host of venal sins: hubris, arrogance, lying, dope-smoking and serial infidelity.

None of which is a serious crime. His accusers, the attorneys say, were willing partners in consensual sex who are now trying to cash a big check with a lawsuit based on trumped-up criminal charges.

The lawyers will make a good case. Mr. Hornbuckle's defense includes some of the best legal representation in town. They'll offer the jury credible explanations for every seemingly damnable fact, while reminding the jury early and often that none of the three accusers reported being assaulted until long after the fact.

You may take what defense lawyers say with a healthy grain of sensible salt, but there are plenty of people who support Mr. Hornbuckle's version of events.

They're parishioners from his once-powerful Arlington church, Agape Christian Fellowship.

Since the scandal broke, the church's membership has dwindled from a peak of 2,500 to a reported 500 or so.

What's left are the hard core, the true believers. Their presence makes a powerful impression.

From Mr. Hornbuckle's stylish, immaculately dressed wife and co-pastor, to a throng of handsomely dressed men in sober charcoal suits and carefully coiffed women with expensive manicures and haute label handbags, they packed the courtroom for opening arguments, a silent but extremely visible display of Mr. Hornbuckle's influence and success.

And they're only a fragment of what once was a huge congregation that idolized Mr. Hornbuckle, addressed him as "Bishop," created what some ex-parishioners describe as a fetishistic cult surrounding the pastor and his wife, their "first family."

One former church member told The Dallas Morning News last year that dazzled parishioners imitated their charismatic leaders, the men adopting Mr. Hornbuckle's clean-shaven head, the women copying Mrs. Hornbuckle's clothes and mannerisms.

Which, of course, is entirely their business. People can dress any way they want.

And in the end, the jury now hearing the case may side with steadfast defenders who say Mr. Hornbuckle is the target of a setup concocted to swindle money out of the well-to-do minister and his church.

But no matter what kind of civil payoff they might have envisioned, it can't have been easy for the accusers to challenge all that power and money and influence. It wouldn't be a casual decision to cook up a lie and accuse this man – not just any man, but the revered "Bishop" – of forcible rape.

One of the prosecutors recounted the thought process that kept one victim from calling the cops the night she says Mr. Hornbuckle assaulted her:

"She said to herself, 'I'm not going to go to the police. He's a bishop. ...

"'I'm a nobody.' "

E-mail jfloyd@dallasnews.com Metro columnists' blog at DallasNews.com/boldtypes