In Court, Arlington Pastor Cast As Playboy, Predator

By Jeff Mosier
The Dallas Morning News
August 3, 2006

http://www.dallasnews.com/sharedcontent/dws/news/localnews/stories/
DN-hornbuckle_03met.ART0.West.Edition1.2c16d05.html

Fort Worth – The prosecution and defense agreed that Terry Hornbuckle lived a double life. But in their opening statements Wednesday in the Arlington pastor's rape trial, they disagreed whether his behavior was criminal.

In his opening statements Wednesday, defense attorney Mike Heiskell (left) said that his client, Terry Hornbuckle, was unfaithful to his wife, to his family and to God, but he said the Arlington pastor was a womanizer, not a rapist.

Prosecutor Betty Arvin said the handsome, charismatic minister used his position of trust to lure women into private meetings to drug and rape them. Two of his three accusers were members of Mr. Hornbuckle's Agape Christian Fellowship in Arlington.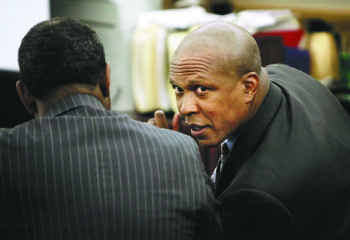 In his opening statements Wednesday, defense attorney Mike Heiskell (left) said that his client, Terry Hornbuckle, was unfaithful to his wife, to his family and to God, but he said the Arlington pastor was a womanizer, not a rapist.
Photo by Michael Ainsworth/DMN


"He prayed with them and then he preyed on them," Ms. Arvin said.

Defense attorney Mike Heiskell said that his client was a bishop behind the pulpit and a playboy behind closed doors. Mr. Hornbuckle cheated on his wife but didn't commit a crime, his attorney said.

"He was unfaithful to his wife. He was unfaithful to his children. He was unfaithful to his God," Mr. Heiskell said to the jury. He also said that Mr. Hornbuckle rented an apartment in Euless for his trysts with women.

But he said that Mr. Hornbuckle's dark side was that he was a womanizer, not a rapist.

Other charges of sexual assault, possession of methamphetamine, tampering with a witness and retaliation are pending against Mr. Hornbuckle. He and his church are also facing lawsuits from the women accusing Mr. Hornbuckle of rape.

The first of the accusers, a 23-year-old former church member, testified that Mr. Hornbuckle asked to meet her so he could give her blessings and perhaps some money for her 21st birthday.

After meeting, he told her he left his checkbook at a friend's apartment, so he took her there, all the while trying to entice her to "get her drink on." He also used slang terms to indicate that he was willing to perform oral sex on women, the woman testified.

Upon arrival at the Euless apartment he rented, Mr. Hornbuckle gave her fruit punch, which he insisted was nonalcoholic. She drank a small amount, she said, and then was surprised when he inquired about her intoxication level.

"He asked me if I was buzzed yet," the woman testified.

The woman's medical records were later introduced, showing she had benzodiazepine in her system, a sedative found in the date rape drug Rohypnol. The woman testified that she did not drink any alcohol or take any drugs that night.

In testimony, she said she began to get sleepy after drinking the punch, and when she woke up later, she had "the feeling of someone getting off of me," and then saw Mr. Hornbuckle naked and walking to the bathroom.

When Mr. Hornbuckle returned as the woman was getting dressed, he grabbed her by the wrists, forced her down and said, "I'm not done yet," she said.

The woman testified she was a virgin at the time he had sex with her. She also said she was a lesbian and had no interest in a sexual relationship with the pastor.

The minister was first arrested in March 2005 and was in and out of jail for the next year for frequently violating the terms of his bail. He has been in the Tarrant County Jail without bail since March.

Mr. Heiskell told the jury Wednesday morning that his client had consensual and casual sex with the three women but never forced them. He said that Mr. Hornbuckle's preaching about prosperity led him to become full of himself and give in to temptation.

The woman who testified Wednesday knew there were rumors that Mr. Hornbuckle was sleeping with other women in his congregation, Mr. Heiskell said, quoting from an earlier deposition. She also knew that she was going out on a date with Mr. Hornbuckle, Mr. Heiskell said, not meeting up with her minister for pastoral counseling.

Mr. Heiskell also pointed out in his cross-examination of the woman that her medical records did not indicate that she had been sexually assaulted and that she refused to submit to a rape kit at the hospital.

The woman also did not report the alleged attack to the police.

She testified that she was scared that no one would believe her because of Mr. Hornbuckle's stature. Also, he has told the congregation that he has political connections, she said.

"To me, he had an army behind him," she said.

The woman's testimony is scheduled to continue today. Mr. Hornbuckle's trial is expected to last two to three weeks.

E-mail jmosier@dallasnews.com