Hornbuckle Defense Seeks Holes in Accuser's Testimony

The Dallas Morning News
August 3, 2006

http://www.dallasnews.com/sharedcontent/dws/news/localnews/
stories/080406dnmethornbuckle.6dcb2ca.html

Fort Worth — An attorney representing Terry Hornbuckle spent most of Thursday morning probing for discrepancies in the testimony of the first witness in the Arlington minister's rape trial.

A 23-year-old former church member, who accused Mr. Hornbuckle of rape, testified Thursday that she told the defendant to stop when he was attempting to have sex with her.

She said she remembered telling Mr. Hornbuckle: "No. I'm ready to go. Stop."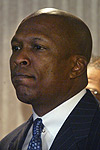 Terry Hornbuckle


Mike Heiskell, one of the defense attorneys, noted that the woman's earlier grand jury testimony was different.

"I'm going to be honest," she told the grand jury. "Not one time did I say 'no.'"

The accuser told the jury Wednesday that Mr. Hornbuckle drugged her in a Euless apartment and that she awoke naked and disoriented. She said that Mr. Hornbuckle then grabbed her wrist and raped her.

Mr. Hornbuckle is facing charges in this trial that he sexually assault three women - two of them church members.

The first alleged victim began testifying Wednesday, and the defense's cross-examination of her continued Thursday morning.

Mr. Heiskell pointed out that the accuser was aware of rumors that Mr. Hornbuckle was having affairs with several members of the congregation. In his opening statement, Mr. Heiskell said that the woman was going out on a date with Mr. Hornbuckle, not having a innocent meeting with her pastor as she claimed.

The defense also showed the jury the woman's panties from the night of the alleged rape. They had a smiley face on them and said, "Flirt, Flirt, Flirt. I just can't help it."

After lunch, Mr. Heiskell is expected to question the woman about a $2 million settlement request her attorney sent to Mr. Hornbuckle's Agape Christian Fellowship. That request was made before she went to the police or the district attorney's office.

The accuser testified outside the presence of the jury that she was unaware of the settlement request at the time. She's expected to testify about that to before the jury Thursday afternoon.

Her civil attorney, G. Lee Finley, was also told by the judge that he could not sit in on the remainder of the trial. During a response about the settlement offer, he pointed at Mr. Hornbuckle and called him the "man that brutally raped her."

The testimony - - which state district Judge Scott Wisch described as a tirade -- was also outside the presence of the jury.

E-mail jmosier@dallasnews.com