Arlington Preacher on Trial for Sexual Assault

By Mary Stewart
CBS 11
August 2, 2006

http://cbs11tv.com/topstories/local_story_214213433.html

Fort Worth Testimony in the trial of Terry Hornbuckle began Wednesday. The Arlington preacher is accused of sexually assaulting several women, including members of his church.

A 23-year-old Arlington woman took the stand Wednesday and said that Bishop Hornbuckle had drugged her, and raped her, after she passed out.

Defense attorneys say that Hornbuckle may be guilty of cheating on his wife, but that he is not guilty of sexual assault.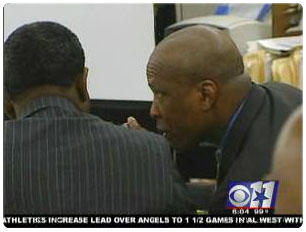 Photo by the CBS 11 News


In court, Hornbuckle was described as a 'prosperity' preacher who liked the fine things in life. He led the Agape Christian Fellowship Church.

Defense attorneys said there was a dark side to 'prosperity' preaching, and that some of the preachers' accusers are envious of his money.

"We are trying to show that it was consensual, cash, and credibility," said Horbuckles' attorney, Leon Haley. "Those are the issues that we intend to explore during this trial, and further we are just trying to also show that, that ministers sometimes make mistakes too. They are human like everybody else."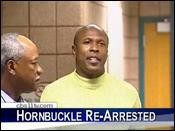 Photo by the CBS 11 News


Prosecutors say that Hornbuckle betrayed the spiritual trust that people put in him.

The 23-year-old woman who took the stand Wednesday said, "I knew he had power. I was scared no one would believe me."

Hornbuckle, 44, has been indicted on six charges of sexual assault, involving five women, and one charge each of possession of a controlled substance, tampering with a witness and retaliation. Each offense is a second-degree felony punishable by two to 20 years in prison.

The trial is expected to last two to three weeks.