Another Minister Charged with Sex Assault in 1998

KEYE
August 1, 2006

http://keyetv.com/local/local_story_213174920.html

(CBS 42) AUSTIN Jerry Dale Carver is not the first pastor at Great Hills Baptist Church to be accused of sexual assault.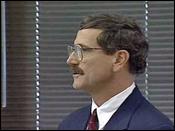 Youth pastor Rick Willits was convicted on molesting a member of his church in 1999.


In June 1998, Austin police arrested youth minister Rick Willits and accused him of assaulting a 14-year-old boy. The boy, who was a member of Willits' youth group, said he was molested in 1995 and 1996.

In 1999, a Travis County jury convicted him of nine counts of sexual abuse of a child. He received a 15-year prison sentence. Willits is still behind bars.