Pastor Held on Charges of Sex Abuse
Computer Messages Tip off Teen's Mother

By Sara Agnew
Columbia Daily Tribune
August 1, 2006

http://www.columbiatribune.com/2006/Aug/20060801News006.asp

A former Columbia minister has been charged with sexually abusing a 15-year-old local girl who attended his worship services.

The Rev. Roberto Edgar Lopez, 36, was arrested yesterday in Monett on suspicion of one count of statutory sodomy and one count of statutory rape. He remained in the Lawrence County Jail today on a bond of $100,000, awaiting transfer to the Boone County Jail.

Columbia police began investigating Lopez after the girl's mother contacted authorities July 25 about suspicious instant messages she discovered on her home computer, indicating her daughter might be having a sexual relationship with Lopez.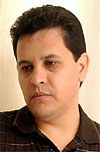 Rev. Roberto Edgar Lopez


Sgt. Ken Hammond of the Columbia Police Department said the victim's father, who lives out of state, also reported finding similar messages on his home computer, which his daughter used while visiting him.

In a probable cause statement filed in Boone County Circuit Court, Columbia police Detective Latisha Stroer wrote that the girl told investigators that Lopez and she began their relationship by "kissing and cuddling" and that his suggestions to her became more physical after her 14th birthday in 2005.

Stroer wrote that the girl said they had various kinds of sexual activity two to three times a week at his residence, in his vehicle and once at a Columbia motel.

Stroer said she believed Lopez remains a threat to the girl because of "the grooming the defendant did" to the victim and that Lopez "used his power as a pastor to gain the trust of the juvenile victim." As a pastor, he also had access to other juveniles, the detective wrote.

No other victims have been identified, but the case remains under investigation. "Due to the nature of the offense, there is always the possibility" of more victims, Hammond said.

In October 2004, Lopez and his wife, Maribel, began hosting worship services of Iglesia Methodista Unida Hispana, Columbia's first Spanish-language United Methodist church. Services were held in the couple's basement on Crown Point Road until members of Wilkes Boulevard United Methodist Church offered two rooms in their building to the fledgling congregation.

The Rev. Nick Campbell of Fairview United Methodist Church was Lopez' main contact when he and his wife came to Columbia, supplying the couple with items for their new church. The United Methodist church transferred Lopez to Monett several months ago to begin a similar Spanish-language church there.

"This caught me completely by surprise," Campbell said. "Edgar and his wife, Maribel, were very close. They were always together and very comfortable with each other. They were a team."

Campbell, chairman of the United Methodist church's mid-state Hispanic initiative, said Maribel Lopez is in Mexico with her mother, who recently had surgery. Campbell isn't sure if she knows about the arrest.

"I got an e-mail from Edgar last week saying that Maribel's mother had just had surgery and was in critical condition and needed prayers," said Campbell, who said the couple did not have children.

Campbell said Lopez, who is originally from Mexico City, came to Columbia from Milan, Mo., where he and his wife had started a Spanish-language ministry.

"Edgar was doing a lot of good ministry, which is why this is so surprising to us and why it is so disappointing," Campbell said.

Lopez has been suspended from the ministry, and Campbell said the church would conduct its own investigation of the allegations.

"There is a whole procedure we go through to protect the congregation," he said.

Reach Sara Agnew at (573) 815-1717 or sagnew@tribmail.com.