Blanco County Monks Due in Court Monday

CBS 42 [Blanco TX]
July 31, 2006

http://keyetv.com/topstories/local_story_211183602.html

(CBS 42) A group of Central Texas monks, accused of molesting a teenager, are due in court Monday morning for arraignment.

The monks are also accused of supplying the teen with drugs and alcohol.

All five monks are from the Christ of the Hills monastery in Blanco County.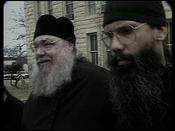 The monks are facing several charges and are due in court Monday.



Monday in court, they'll be formally notified of the charges against them -- and allowed to make a plea -- either guilty or not guilty.