10 Years As a Cleric, 11 Claims of Abuse
11 Men Say in Lawsuits That Harry Monroe Molested Them As Boys While Indianapolis' Archdiocese Moved Him around the State. Not So, Says the Church

By Robert King robert.king@indystar.com
Indianapolis Star
July 30, 2006

http://www.indystar.com/apps/pbcs.dll/article?AID=/20060730/NEWS01/607300401
[Note from BishopAccountability.org: See also "I'm Tired of Secrets": Family Speaks Out on Alleged Abuse of Son, by Stephanie Salter, [Terre Haute IN] Tribune-Star (11/13/05).]

Wherever Harry Monroe lived in his 10-year journey through Indiana as a Catholic priest, claims of child sexual abuse followed.

There was the altar boy at St. Andrew parish in Indianapolis who says Monroe robbed him of his ability to believe in God.

There was the boy in the youth group at St. Patrick in Terre Haute, who became so depressed after his encounters with Monroe, his mother says, that he withdrew from life and died in an apparent suicide before his 20th birthday.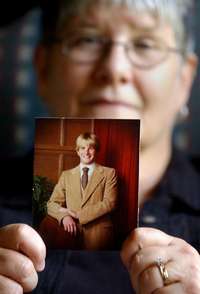 LOST CHILD: Melissa Limcaco holds a photo of her son Danny, who apparently killed himself two years after he said he was molested.
Photo by KEVIN MARTIN / The Star


And there was the boy in Tell City, along the Ohio River, who wanted to be a priest himself one day -- until, he says, Monroe stole his innocence.

Now, Monroe and the Roman Catholic Archdiocese of Indianapolis face 11 civil lawsuits from men, now in their 30s and 40s, who claim Monroe sexually molested them when he was a priest from 1974 through 1984.

They claim church leaders knew of allegations of abuse by Monroe but kept them secret and contributed to the problem by moving him to parishes around the state -- without warning those in his path.

"There were a lot of families that got hurt over this," said John Doe RG, the 41-year-old former altar boy at St. Andrew who was one of five accusers willing to discuss his case with The Star. Like all the complainants, he filed his suit under a pseudonym. The Star agreed to use the pseudonyms for this story.

In their legal responses to the suits, both Monroe and the Archdiocese of Indianapolis denied the allegations.



EXCERPTS FROM ARCHDIOCESE LETTERS

MARCH 26, 2002
You reported Harry Monroe to the Archdiocese in 1981 and received a letter of thanks from Archbishop O'Meara. Our records are unclear about who reported this to authorities or when but it does seem that charges were filed against him at one point and later dismissed. Archbishop O'Meara dismissed Harry Monroe from the priesthood in 1984.
• Read complete letter

JANUARY 29, 2004
I am writing to alert you that in the next few days I will be sending a letter to everyone in the Archdiocese of Indianapolis about child abuse by people who work for the church. I feel that it is important that people hear from me about abuse that occurred and what has been done about it.
• Read complete letter

JANUARY 30, 2004
Also, the Archdiocese of Indianapolis participated in a national study on child abuse that was done by the John Jay College of Criminal Justice. The rules of this study also required that no names of either abusers or victims be revealed.

When asked by the auditors and the John Jay survey how many abusers and victims there are we did include Harry Monroe and his victims in the numbers.
• Read complete letter

SEPTEMBER 8, 2005
Monroe was relieved of his ministerial duties in 1984 by then-Archbishop Edward T. O'Meara.
• Read complete letter




However, in letters to the Terre Haute mother whose son later died, the archdiocese apologized "for the grave harm that was done to your son" and said it "included Harry Monroe and his victims" in information for a national study on child abuse. The mother, Melissa Limcaco, has not filed suit against the church but is willing to testify.

The stakes are high for the archdiocese, which officials say has never paid to settle an abuse case. Settlements in similar cases across the country have run into the millions of dollars.

The accusers have hired attorney Pat Noaker, whose Minnesota law firm, Jeff Anderson and Associates, has won some of those cases.

Meanwhile, Monroe lives without fear of facing criminal charges in Indiana. The statute of limitations expired when the victims turned 31, and the civil lawsuits, filed in Marion and Vigo counties, are the plaintiffs' only legal option. However, the church argues the statutory limit for civil suits has run out, too.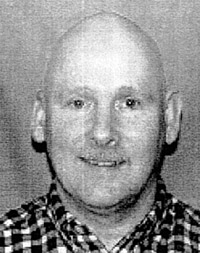 SUED: Eleven men say they want justice from Harry Monroe (in Tennessee driver's license photo) and the church he served.
Undated photo provided by Rememberthesurvivors.com
Dismissed from the priesthood in 1984, Monroe lives in Nashville, Tenn., where he worked at a hospital until earlier this year. Monroe declined to comment on the lawsuits.

If those suing have their way, their cases will force him to face his past.

1974-79
A young priest in Indy

Monroe, 58, grew up in New Albany, Ind., and went to college and seminary at St. Mary's in Baltimore, the oldest Catholic seminary in the country. At 26, he was ordained.

From 1974 to 1979, his first five years as a priest, he served at three Indianapolis parishes -- St. Monica, St. Andrew and St. Catherine. He also taught religion at Bishop Chatard High School.

Five of the lawsuits emanate from this period.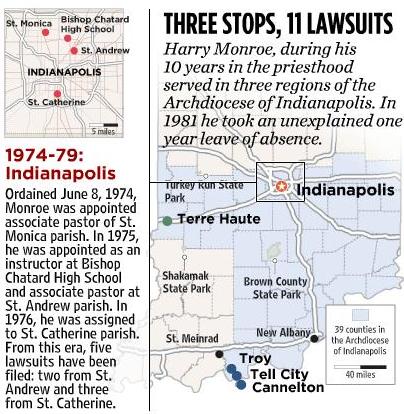 John Doe RG told The Star that he was 10 when Monroe started sexually abusing him at St. Andrew. He said he also remembers an episode at Brown County State Park.

RG said Monroe told him to keep it a secret or he'd no longer be an altar boy. "So that was pretty close to death to an 11-year-old," he said.

His memories lay dormant until a therapist asked him in 2003 whether he had ever been sexually abused, he said.

Another accuser, John Doe NM, said Monroe offered alcohol to him and other boys in the St. Catherine parish. That included colorful liqueurs from strangely shaped bottles, as well as Lowenbrau beer or Little Kings Cream Ale. He was 10.

He said Monroe's inappropriate touching began during these drinking episodes -- when he would put ice cubes down the boys' pants or wrestle with them on the floor. From there, there were overnight stays in the rectory and camping trips.

Once, John Doe NM said, church pastor Francis Dooley came to the door of Monroe's bedroom when he and Monroe were naked on the floor.

Monroe quickly slammed the door, he said, and Dooley inquired no further. NM said he later told Dooley he no longer wanted to be an altar boy because Monroe made him uncomfortable. He said he believes Dooley, who died in 1998, did nothing with the information.

NM said Monroe remained in place until NM's older brother heard the allegations and confronted Monroe. Within a few days, Monroe was gone from the parish.

1979-81
West to Terre Haute

When Monroe arrived at St. Patrick parish in Terre Haute in 1979, he was given the responsibility of training altar boys and guiding youths.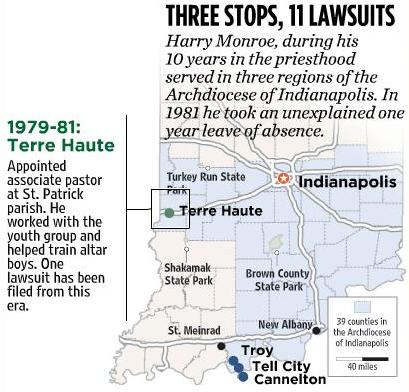 As a 15-year-old boy who was shy and without many friends, John Doe WC remembers Monroe as one of the few people who listened. "He was my friend," WC said. He said Monroe seemed to play on that.

Together, they went to movies, bowled and played racquetball. Soon, there were invitations from Monroe to stay in the rectory or to go camping. And that, he said, led to the sexual abuse.

Melissa Limcaco said a similar scenario was playing out for her son Danny.

She said her son's world started falling apart after he returned from a March 1980 camping trip with Monroe at Turkey Run State Park.

Danny, who was 16, came home and went directly to his room. Soon, he refused to go to church and dropped out of things at school. She chalked it up to his being a teenager.

A year later, Limcaco said, she saw a woman crying at church and asked what was wrong. The woman said her own son had been abused by Monroe. Limcaco decided it was time to confront Danny.

"We went out and talked, and he started shaking like a leaf," she recalled. After a night of drinking at Turkey Run State Park, he told her, he had awakened to find Monroe on top of him, Limcaco said. The boy said he kept it to himself because he feared no one would believe him.

Limcaco said she immediately headed for the Terre Haute police. But she passed St. Patrick Church on her way and decided to stop in and tell the pastor, the Rev. Joseph Wade, what his associate had done.

Limcaco said Wade reacted defensively. When she started for the door, he stopped her. "He came after me and took me by the arm and literally pulled me back in," she said. "He said: Come back in; we need to talk."

She said Wade persuaded her to let the archdiocese deal with Monroe. In a conversation later that day, she said, Wade revealed that five other St. Patrick boys had made such claims. She said the archdiocese requested letters from each of the boys describing the abuse.

An archdiocesan official from Indianapolis called her several weeks later to say Monroe would be removed, Limcaco said. When she pressed to know what they would do to prevent the abuse from happening again, the official's voice turned sharp.

"It's not your place to question the authority of the archbishop," she said she was told.

Limcaco said she shrank from the phone in tears and never made a report to police. Monroe left the parish in 1981. Wade, who left the priesthood and lives on Indianapolis' Northside, did not return calls from The Star.

In 1983, two years after she was diverted from her run to the police, Limcaco found her son Danny dead in a toolshed behind the family's home. He died of poisoning from carbon monoxide, likely from a lawn mower engine. She believes he was consumed by depression after the church's failure to act and killed himself.

"He was just a great kid who, suddenly, his world fell out from under him," she said.

Five years later, in 1988, another Limcaco son, John, would die in a suicide. She said he had been very close to Danny.

Limcaco said it wasn't until 1997 that she learned what had become of Monroe after he left Terre Haute. Despite her warnings, Monroe had been given a new assignment that put him in contact with more young boys.

1982-84
South to the Ohio River

With steep, hilly streets that all seem to dead-end at the Ohio River flood wall, Tell City is about as far from Indianapolis and Terre Haute as one can get and remain in the Indianapolis Archdiocese, which covers 39 counties and counts 232,000 people in its flock.

It was here that Monroe was sent in 1982 after a one-year leave from the priesthood that church officials won't discuss. Monroe was named co-pastor of the three local parishes -- St. Paul in Tell City, St. Michael in Cannelton and St. Pius V in Troy.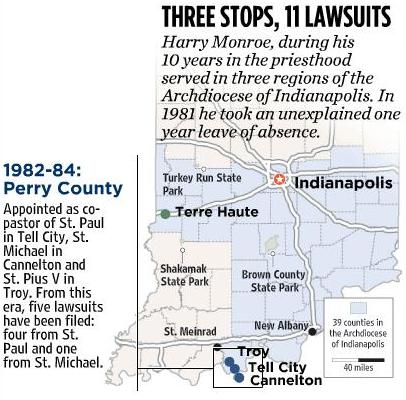 Despite having stayed less than two years, Monroe faces five lawsuits originating from these Perry County communities.

John Doe DB, a parishioner at St. Paul, said in an interview that Monroe abused him in the church rectory and on camping trips when he was about 16. His abuse began in a motel, he said, when the priest turned the TV to a horror movie that gave the boy a scare.

"I don't know if he noticed that I was freaking out over it or not, but he climbed into bed with me and just kind of held on to me, and it went from there," DB said.

John Doe KW, who was an altar boy at St. Paul, said his abuse began in a motel room after Monroe picked him up for what was supposed to be a group camping trip in summer 1983. In the car, he said, Monroe told him the other boy who was supposed to come couldn't. The priest suggested they get a motel room in New Albany.

At the motel, Monroe made them some boilermakers that KW, then 13, remembers tasted like Dr Pepper. Soon, the priest suggested they go streaking down the hallway, and they took turns making short dashes.

Back in the room, Monroe suggested they measure penises to see whose was bigger, he said. Then the priest offered to "make you feel good" with what turned out to be oral sex.

KW said he had considered becoming a priest -- until he met Monroe. Then he stopped going to church, returning only in the past few years. He kept silent about what had happened for a long time.

"Growing up in Tell City, you would have had a hard time having a normal life if you stood out in any way. The last thing I wanted to do was go home and make waves about this and be seen kind of as a broken toy in a small community," he said. "I think from that point forward, I just kind of put it out of my mind the best I could."

1984
End of a career

Monroe was dismissed from the priesthood in 1984 by Archbishop Edward T. O'Meara.

The dismissal, an archdiocesan spokeswoman told a reporter last fall after the first lawsuit was filed, was because of allegations of sexual misconduct. But in subsequent statements, church officials have declined to give a reason.

Daniel M. Buechlein, the Archbishop of Indianapolis who arrived in Indiana eight years after Monroe left, has declined to discuss the case.

In a 2004 letter to Melissa Limcaco about some forthcoming reports on child abuse in the church, Buechlein wrote: "I apologize for the harm you have suffered. Please know that you are in my prayers."

On the archdiocesan Web site, Buechlein has described sexual misconduct as "betrayal of trust" and "gravely sinful and contrary to God's law."

Suzanne Yakimchick, who is in charge of victims assistance for the archdiocese, declined to discuss Monroe.

Yakimchick said her first responses to people reporting abuse are to listen, then offer an apology on behalf of the church. She follows it with a church offer to pay for counseling and medical assistance.

She apologized in writing to Limcaco in 2002, noting that Limcaco had reported her son's abuse to the church in 1981, while Monroe was still in Terre Haute.

2006
The cost of abuse

In a survey of Catholic dioceses and religious orders in the United States, the John Jay College of Criminal Justice found that 4 percent of priests who served during the period from 1950 to 2002 had been accused in the sex abuse of a minor. Church critics suggest the number is higher.

A Washington Post analysis found more than 12,500 sex abuse victims and credible accusations against nearly 5,000 priests and deacons during that period.

Settling the legal cases has cost the church $1.5 billion -- $399 million in 2005 alone.

For all its personal apologies, the Archdiocese of Indianapolis is taking a tough legal stance when it comes to claims involving Monroe.

In court documents, the church has denied every allegation.

The church has argued that the court has no jurisdiction over its internal workings because of the First Amendment clause regarding the free exercise of religion.

The church contends that a priest's right to keep confessed sins in confidence may trump its duty to report child abuse.

And, it has argued that each of the 11 cases should be dismissed because they were filed after the legal statute of limitations for civil lawsuits had expired -- by the time accusers turn 20.

That argument helped the archdiocese prevail recently in a case in Southern Indiana in which 22 plaintiffs were making claims about long-past sexual abuse. Jay Mercer, an Indianapolis attorney defending the archdiocese, said there is nothing new in the 11 cases that should produce a different result.

The tough stance in court has some of the victims convinced that the church is not serious about addressing the problem of clergy abuse. "They don't care about our emotional, physical and mental well-being," said John Doe NM. "They don't practice what they preach."

Mercer said the church has the right to defend itself and protect its assets. And it doesn't matter to him whether the church wins on the merits in court or gets the cases thrown out because of the statute of limitations.

"I don't see a difference. You may see a difference," he said. "A win is a win."

Noaker, the lawyer representing Monroe's 11 accusers, said he will argue the deadlines should be suspended in these cases because the archdiocese concealed the truth from victims.

Monroe's attorney in Indianapolis, Bryan Lee Ciyou, also is making the statute of limitations argument. In court papers on Monroe's behalf, Ciyou has denied all of the allegations of abuse.

Today Monroe lives a few miles north of downtown Nashville, Tenn., on a steep hillside in a mobile home he shares with another man.

His job at the Centennial Medical Center in Nashville ended in January. A hospital spokeswoman declined to say why. But just a month earlier, representatives from the Survivors Network of those Abused by Priests contacted the hospital to ask whether officials there knew of Monroe's past.

When a Star reporter sought comment from him, the former priest stood in his driveway and said in a quiet voice that his attorney had advised him not to discuss the lawsuits.

Nearby, on his back porch, stood a 3-foot-tall concrete statue representing St. Anthony, holding a child in his arms.

Call Star reporter Robert King at (317) 444-6089.