Reflections of an Archbishop
Kelly Takes Stock of Tenure

By Peter Smith
The Courier-Journal [Louisville KY]
July 30, 2006

http://www.courier-journal.com/apps/pbcs.dll/article?
AID=/20060730/NEWS01/607300484/1008
[Note from BishopAccountability.org: See the memos that prompted calls for Kelly's resignation.]

It was the "greatest heartbreak" he's ever known, and at its peak, he considered heeding the calls for his resignation.

But Archbishop Thomas C. Kelly said the sex-abuse scandal involving priests in the Roman Catholic Archdiocese of Louisville, which peaked in 2003, was "his responsibility to address," so he stayed.

That decision came despite criticism over revelations that he had kept priests in ministry after learning they had abused minors.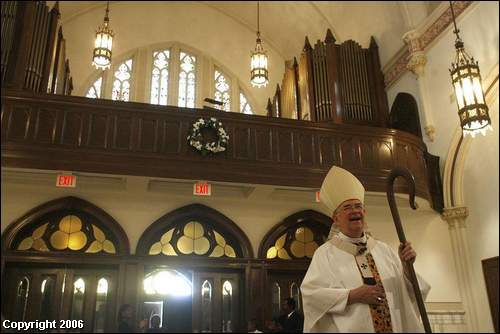 "I hope I have been a good pastor," said Louisville Archbishop Thomas C. Kelly, shown entering St. Martin de Porres Church last week.
Photo by Jim Winn, The Courier-Journal



"I know that probably offended some people and I regret that very much, but … looking back on it now, I feel that I should have stayed," he said.

"I hope I have been a good pastor. That's what I wanted to be."

Kelly, who has been archbishop since 1982, spoke in a wide-ranging interview at his office after submitting his resignation to the Vatican upon his 75th birthday earlier this month, as required under church law.

He said he plans to actively lead the archdiocese until his replacement is announced, which he said could be another 18 months or so.

In particular, Kelly said he wants to oversee as much as possible of a new round of likely parish closures or mergers. Archdiocesan officials and parishes are studying options, and Kelly is scheduled to make final decisions in November. He did not give any hints about what he might do.

"I can't think of anything that I would have liked less when I got here than to be faced with a process like this when you don't know the people, you don't know the neighborhoods, you don't know the parishes," he said.



THOMAS CAJETAN KELLY

Age: 75

Personal: Born in Rochester, N.Y., to Thomas Aloysius and Katherine Kelly.

Education: Bachelor's degree, Providence College, 1953; doctorate, canon law, University of St. Thomas in Rome, 1962.

Career: Ordained priest in Dominican order, 1958; secretary to Dominican provincial office, New York, 1962; secretary to Apostolic Delegation (Vatican diplomatic presence) in Washington, 1965; associate general secretary to the National Conference of Catholic Bishops, 1971; general secretary of bishops conference, plus auxiliary bishop of Archdiocese of Washington, 1977; archbishop of Louisville, succeeding Thomas J. McDonough, 1982.



The Rev. Patrick Delahanty, who formerly worked at inner-city churches in Louisville, said that in the past, "this parish would close, that parish would close" without a strategic plan.

He said the archdiocese is now viewing the big picture.

"I know there have been closings and mergers, but there has been some order to it and some planning, and hopefully some diminishment of the pain that's involved," said Delahanty, now associate director of the Catholic Conference of Kentucky.

Kelly said he is proud of some accomplishments during his tenure, such as the renovation of the historic Cathedral of the Assumption, the expansion of lay ministry and the development of regional Catholic schools.

Once the Vatican has decided on a new head for the archdiocese, Kelly hopes to spend a year at a residence owned by his Dominican religious order in Washington, D.C.

"It's always been the practice for the retiring bishop to get out of Dodge for a while" as the new bishop gets established, he said.

After a year, Kelly said, he'll ask the new archbishop for permission to return to Louisville, perhaps to live with fellow Dominicans at St. Louis Bertrand Church.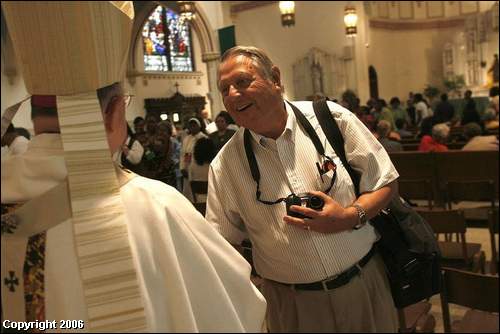 Archbishop Thomas Kelly greeted Joe Duerr before a Mass at St. Martin de Porres Church on Wednesday night that was part of the National Black Catholic Joint Conference.
Photo by Jim Winn, The Courier-Journal



Aftermath of a crisis

Kelly said the archdiocese is only beginning to emerge from "four torturous years" of confronting the sexual abuse of minors by priests and now has an extensive system of training and screening employees and volunteers.

Louisville was one of the hardest-hit dioceses in the United States when the crisis erupted worldwide in 2002 and 2003.

The archdiocese was sued by more than 250 plaintiffs; nine priests were removed from ministry, and four were convicted of abuse-related charges. To date, the archdiocese has paid nearly $30 million in settlements and in legal and medical bills.

"Nobody, I think, was really well prepared for the extent of the problem: the impact, the harm and injury that could be done to people," Kelly said. "And I have to admit to my own absolute incredulousness that such a thing could be prevalent here and I not know about it. It took a couple of kicks to make me understand the extent of the difficulty."

Although Kelly said he didn't know the extent of the abuse, he was very much aware of its existence.

For most of his tenure, until bishops adopted a zero-tolerance policy in 2002, Kelly allowed some priests to remain in ministry after learning they had abused children, according to internal church documents released during litigation.

"I regret that so much," Kelly said. "I did that with the approval of (mental-health) professionals."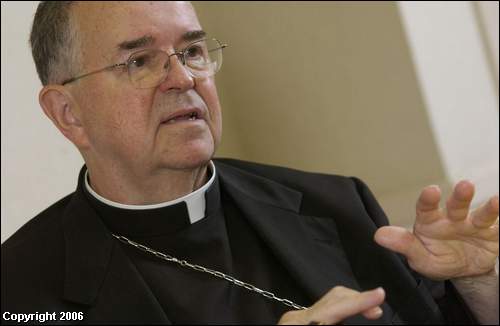 Kelly said some advances during his tenure of which he is proud are the Cathedral of the Assumption's renovation, the expansion of lay ministry and the development of regional Catholic schools.
Photo by Jim Winn, The Courier-Journal



When asked whether those priests could be reassigned, therapists said they could, Kelly said.

But his decisions have been difficult for victims and their families, said Michael Turner, who was a plaintiff against the archdiocese.

"I think we need somebody new in here to let the church heal itself some more," he said. "There are still a lot of people with a lot of hurt."

Cathedral's resurgence

The renovation of the downtown Cathedral of the Assumption, which was deteriorating and had declined in membership, was a high point in his tenure, Kelly said. The church, which was rededicated in 1994, grew dramatically in numbers.

"Restoring that, but more significantly, engaging a faith community there … was just a wonderful experience," Kelly said, crediting the pastor at the time, the Rev. Ron Knott, for that work.

"The spiritual life of the diocese has been a source of great satisfaction," Kelly said.

He also cited the growing numbers of lay people who have taken on key leadership roles in parishes and the archdiocese.

Although a new archbishop might prefer priests in some of these positions, Kelly said the lay people have obtained the specialized education needed for many of them.

Plus, he said, "I haven't left him a great pool of unemployed clergy."

Kelly lamented the priest shortage. "That is a difficulty that we tried to face and didn't have any success with," he said.

It's a national problem, although Kelly noted that some bishops have had better success in recruiting priests.

"I wish I had their secrets," he said. "… The candidates we get are terrific. But the numbers are so small."

The archdiocese has ordained three priests or fewer per year since 2001. It has less than half the number of active parish priests it had in 1970 and is projecting an additional 20 percent drop in the next five years.

The Rev. David Naylor, who was ordained in 2000, said Kelly did a good job of encouraging him to become a priest.

"He told me I had a vocation, and he ordained me," said Naylor, pastor of St. Aloysius Church in Shepherdsville. "I will always be grateful."

Naylor said the new archbishop will need to do more of the same.

"I would like to see the archbishop take over the position of vocation director, meaning that he would devote a lot of time" to recruiting, Naylor said.

Kelly said he's skeptical about calls to end the restriction of the priesthood to celibate males.

"Our priests work practically every night of the week," Kelly said. "These are the hours you would want to be with your children. I just can't imagine how (a married man) would take all that on."

As for women priests, he said, Pope John Paul II ruled that out so definitively "that it seems useless to me to speculate on that question."

Offering a counterbalance

Also not open to negotiation, Kelly said, is the Catholic Church's opposition to such things as abortion and euthanasia.

"There are a lot of assaults on faith these days, many of them more subtle than they used to be," Kelly said. "We don't have Bloody Monday anymore (the deadly anti-Catholic riots of 1855 in Louisville), but we do have a what has been called a culture of death … and I want our culture of respect for human life to continue to prevail.

"The church always has to be countercultural, which always bothers everybody who's just going with the flow. But there are ways to be countercultural and to be heard."

Striking that balance is a crucial skill for any bishop, he said.

"It was always a source of concern for the leadership of the church in the United States that bishops have a strong pastoral character and not be seen as enforcers or hard-fisted," Kelly said.

Reporter Peter Smith can be reached at (502) 582-4469.