Ex-Pastor Among Top Lee Fugitives
Longtime East Fort Myers Church Man Accused of Molesting Boys

By Grant Boxleitner gboxleitner@news-press.com
The News-Press [Florida]
July 29, 2006

http://www.news-press.com/apps/pbcs.dll/article?
AID=/20060729/NEWS0110/607290475/1075

A former Fort Myers pastor stands accused of molesting at least three young boys at his home and church office, court records show.

Russell Lee Brown, 53, of 2 Kingsman Circle — the long-time pastor of Antioch Missionary Baptist Church in east Fort Myers — is one of the top-sought fugitives in Lee County, according to Trish Routte, coordinator of Southwest Florida Crime Stoppers.

Recent information from investigators suggest Brown may be in Kentucky or Atlanta. He's facing some very serious charges, and he's had ample opportunity to turn himself in, Routte said.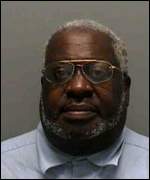 Russell Lee Brown



Fort Myers police secured an arrest warrant earlier this month on child molestation charges against Brown, who had not been arrested as of late Friday, police officials said.

Investigators have a taped statement from Brown on July 5 in which the former pastor indicated remorse for what he did, Routte said. Alleged victims were between ages 6 and 11, Routte said. One of the victims indicated the abuse dated back six or seven years.

A woman who said her two young nephews told her they had been sexually abused by Brown prompted the criminal investigation, according to court records. Routte said there is a third victim who also has come forward. Fort Myers police began looking into the allegations against the pastor June 23.

The Department of Children & Families also investigated the claims by the families, court records show.

Brown had been the pastor at Antioch Missionary Baptist Church, 163 Catalina St. in east Fort Myers, for 20 years. He resigned May 26 under the scrutiny of the allegations of sexual abuse prompted by several church members, wife Mary Washington Brown told investigators.

An answering machine message from the church Friday still identifies Brown as the senior pastor. A request to call The News-Press was not returned Friday.

Two of the victims told authorities the inappropriate behavior by Brown took place on more than 10 occasions.

When Brown learned the woman planned to report the alleged sexual molestation, he fell to his knees and asked for forgiveness, court records show.

"He's a respected man in this community, and he is someone these children trusted," Routte said. "He was in the position of authority. That's a scary thing for a parent."