Walsh Defends Delay in Ochoa Case
Santa Rosa Bishop Says Keeping Priest from Kids Was His First Priority and That Filing a Report Didn't Cross His Mind

By Martin Espinoza mespinoza@pressdemocrat.com
The Press Democrat [Santa Rosa CA]
July 28, 2006

http://www1.pressdemocrat.com/apps/pbcs.dll/article?
AID=/20060728/NEWS/607280302/1033/NEWS01
[See also Documents Detail Abuse Allegations, by Martin Espinoza, Press Democrat (7/28/06).]

Santa Rosa Bishop Daniel Walsh said it didn't occur to him to immediately report to police that priest Xavier Ochoa had admitted sexual misconduct with young boys, as required by law.

Walsh said his first concern was to remove Ochoa from any contact with children and said he was not focused on making a report. It wasn't until four days after the admission that a diocese lawyer notified the Sonoma County Sheriff's Department.

By the time deputies began looking for him, Ochoa had fled. He is believed to be in Mexico.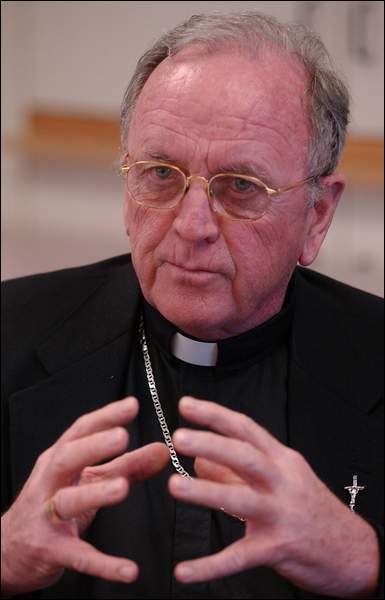 Bishop Daniel Walsh "I wanted to make sure that he didn't function as a priest, so he didn't have access to kids."
Photo by The Courtesy



As for calling authorities sooner, Walsh said, "It didn't even cross my mind. But when you're dealing with a crisis, you don't think about those things. I wanted to make sure that he didn't function as a priest, so he didn't have access to kids."

The Sonoma County District Attorney's Office has ordered an investigation into whether the bishop and other Roman Catholic Church officials violated the state law that requires immediate notification by telephone of sex abuse suspicions.

Walsh's comment came in response to a reporter's questions following an unrelated forum at St. Leo the Great Church in Sonoma Valley. Walsh declined to elaborate further about the investigation or the criminal charges against Ochoa.

The fugitive priest is wanted on 10 felony counts, including lewd acts with a child, forcible sodomy and oral copulation. It is believed he fled the country to Mexico several days after the meeting with Walsh.

Meanwhile, an attorney representing Ochoa's alleged victims said the fugitive priest sexually molested as many as nine people. Sheriff's investigators, however, say that only three victims have come forward.

"I represent nine clients from three different families," said Walnut Creek attorney Michael Meadows. Sheriff's investigators "may not be aware that from certain families there are more children than they think. In all of these families there are certain children that were molested more often and more severely than others."

Earlier this week, a federal arrest warrant was issued against Ochoa for unlawful flight to avoid prosecution on the felony charges filed against him June 23.

The federal warrant allows U.S. marshals to work with Mexican authorities to locate and apprehend Ochoa. It also notifies law enforcement agencies across the country and along U.S. borders of the charges against Ochoa.

"I spoke to U.S. marshals, and they said that in cases like this they (Mexican law enforcement) will cooperate," said Sheriff's Detective Ruben Martinez, the lead investigator on the Ochoa case.

Walsh previously released a timeline indicating he was advised of a "sensitive matter" involving Ochoa on April 27.

On April 28, Ochoa admitted to three incidents of sexual misconduct. Walsh placed him on administrative leave and relieved him of his functions as a priest.

Three days later, the diocese reported abuse allegations to Sonoma County Child Protective Services.

A day after that, May 2, the diocese sent information by fax to the Sheriff's Department.

Church critics say the delay allowed Ochoa to flee to Mexico, and the Sheriff's Department is conducting an investigation that could lead to misdemeanor charges of failing to immediately report allegations of sex abuse.

"He was trying to protect his priest, not trying to protect the abused children," said Walt Picchi, an 80-year-old Sonoma Valley resident who attended the church forum Wednesday night. "He should have reported it right away to keep (Ochoa) from going to Mexico. He gave him three days."

Meanwhile, court documents filed in support of the federal warrant this week reveal new details about Ochoa's whereabouts after he fled Sonoma County.

On May 23, Sonoma County Sheriff's Detective Ruben Martinez received an anonymous call from someone who said "he/she" knew Ochoa and Ochoa's friends very well and that Ochoa was in Carichi, a small town in the northern Mexico state of Chihuahua.

Martinez also said that "victim No. 3" told him he used to live in Carichi before Ochoa brought him to the United States when the victim was 15 years old.

The anonymous caller later told Martinez that "Ochoa was staying at his home in a small town called Cuauhte'moc," about 45 minutes from Carichi. The caller also told Martinez that Ochoa had visited the family of "victim No. 3" in Carichi.

The anonymous caller told Martinez that Ochoa contacted a friend in Sonoma County and told him that he knew there was a state warrant out for his arrest, that Sonoma County District Attorney Stephan Passalacqua was a "son of a bitch" and "that if Passalacqua sent anyone to get him in Mexico, he had a loaded firearm ready for them."

Law enforcement officials said Thursday that several sources who had previously been in touch with Ochoa have not heard from him in approximately 10 days.