Prosecutors Must Get Names of Sex-Abuse Victims in Church Lawsuit

By Brett Barrouquere
The Associated Press, carried in Louisville Courier-Journal
July 28, 2006

http://www.courier-journal.com/apps/pbcs.dll/article?
AID=/20060728/NEWS01/607280384/1008/NEWS01

BURLINGTON, Ky. — Names of sexual-abuse victims involved in a class-action lawsuit against the Roman Catholic Diocese of Covington will have to be turned over to prosecutors, a judge said yesterday.

After a contentious two-hour hearing in Boone Circuit Court, Judge John Potter said he would let his order to disclose the names stand despite the objections of attorneys.

The issue of turning over the identities of victims arose earlier this month when Potter ordered attorneys to turn over to prosecutors the identities of more than 300 victims.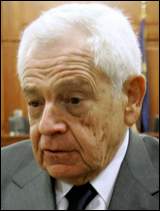 Attorney Stan Chesley asked the judge to delay implementing his order until it is appealed, but he declined.



The names of the victims would not be made public unless it is necessary, Potter wrote.

In litigation involving sexual-abuse allegations against the Archdiocese of Louisville, the names of victims were public because each person filed a lawsuit under his or her own name.

Attorney Stan Chesley, who represents the plaintiffs in the $84 million class-action suit, asked Potter to delay implementing his order until it could be appealed. Potter declined before leaving the bench.

"So, the answer is, we'll go to the court of appeals," Chesley said after the hearing. "They can't command people to go to the prosecutor's office."

Prosecutors have been receiving letters from the Diocese of Covington with allegations of abuse as victims come forward, but often with the name, contact information and details of the allegations withheld, said Carrie Huff, the attorney for the diocese.

If prosecutors are interested, they can contact the diocese, which provides more information, Huff said. That makes the order unnecessary, Huff said.

Potter said his order merely requires attorneys to provide more detail and contact information without prosecutors asking.

"I'm saying give it all to them up front," Potter said.

Chesley argued yesterday that giving the names to prosecutors could result in them becoming public. He said that might lead to victims being unwilling to participate in the case.

Chesley pointed out that victims in the case were promised confidentiality.

Dr. Rena Kay, a professor with Wright State University's Cincinnati Center for Psychoanalysis who has treated some of the Covington victims, testified that turning names over to prosecutors would put victims in the uncomfortable position of having to tell their stories and possibly having their names made public.

"Most patients have not told anyone what happened to them," Kay said. "Some of them have said confidentiality was the reason they came forward."

Boone County Commonwealth's Attorney Linda Talley Smith said her office has pursued each complaint forwarded by the diocese, but has not prosecuted any cases yet.

Smith said she wasn't sure how many cases had been sent to her office.

The victims reached an $84 million settlement with the Covington Diocese in January. The settlement covers 361 victims who claim they were abused over a period of 50 years by priests and church employees in a diocese that once included 57 counties across a large swath of Kentucky.

Thomas Lambros, the former chief judge of the northern district of Ohio who is overseeing payments in the case, filed a notice with Potter yesterday, saying some awards will be made by late summer or early fall and a review of all claims should be complete by the end of the summer.