Investigators Hope to Speak with Accused Priest

WALA [Alabama]
July 27, 2006

http://www.fox10tv.com/

Fox 10 News has uncovered new information about a Catholic priest deputies want to talk to, but say they can't find.

When Father Tim Evans arrived at St. Margaret's Catholic Church in Bayou La Batre, longtime church member Henry Barnes said he went to welcome him at the church's rectory. "He was putting down a little patio. Him and some young boys," Barnes said. "I noticed they were drinking beer. They were in their teens. They weren't old enough to drink. "

In the months that followed, Barnes said he saw strange things from his post at the top of the town's drawbridge. Barnes worked there as the bridge tender at that time. "There'd be 20 or 30 of them over there. Mostly boys staying in the rectory with him," he said.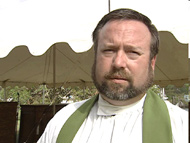 Some parishioners said they were suspicious because one of the first things Father Tim did when he moved to St. Margaret's was build a privacy fence between the rectory and the school. Now it's no longer here because it was destroyed by Hurricane Katrina.

Church members told us that eventually Evans moved away from the rectory into a rented home in Dauphin Island.

It was while he was living there last December that church officials confirmed that a complaint was made against him alleging substance and sex abuse. "Our investigation began as a result of an investigation that started over in Mobile County," said Lt. John Murphy of the Baldwin County Sheriff's Office. "It was here that we believe the victim was probably victimized."

Investigators say the alleged victim was a member of Christ the King Church in Daphne. Investigators say he was a teenager when the alleged abuse began back in 2000.

It was around that time that Evans was transferred to another church in Monroeville.

In the nearly 9 months since his suspension, church officials tell Fox 10 News that Evans has been in a rehabilitation center in north Alabama.

Investigators say he has invoked his legal right not to speak with them.

"Obviously it completes an investigation much more so and we could present it to a court much better by being able to talk to all parties involved," Murphy said.

The investigation into the allegations continues in Balwin County. The case could go to the grand jury in September.

Fox 10 News spoke to Archdiocesan Chancellor, Father Michael Farmer Thursday afternoon. He said the church isn't trying to hide Father Evans...and that it has been--up front---with investigators about his location.