Investigation into Monastery Sex Assaults Ongoing
Search Warrant Reveals Details of Assaults

CBS 2
July 26, 2006

http://keyetv.com/local/local_story_207180745.html

(CBS 42) BLANCO COUNTY After accusations of sexual assault against a child at a hill country monastery, five monks sit behind bars accused in the crimes.

One has been released under strict guidelines.

The investigation centers around five monks from the Christ of the Hills monastery in Blanco County.

The lead detectives with the sheriff's office say this investigation is far from over. He believes there may be more victims and more indictments as well.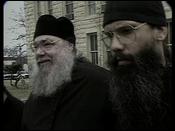 Samuel Greene (left) and Jonathan Hitt (right) are charged with sexual assault of a child and organized criminal activity.



Three of the indicted monks, William Edward Hughs, Walter Paul Christly, Hugh Brian Fallon, are behind bars at the Blanco County jail.

One monk, Samuel Alexander Greene, has been released with strict guidelines in place--including that he cannot return to the monastery and is basically under house arrest.

Jonathon Irving Hitt is already behind bars in the Texas Department of Justice for charges unrelated to the recent indictments.

In the search warrant, Greene says he seduced the teen with marijuana and porn. The warrant says that other monks also assaulted the teen.

"It's our belief young children were being targeted, grouped together so to speak so the offenses could take place," Blanco County sheriff Bill Elsbury said.

According to investigators some children were sent to this monastery by their parents, others came from similar faith based facilities around the country.

The indictments themselves center on the alleged assault of a teenage boy who was 16-years-old in 1993 when he was living with the monks. The teen says he had sex with the monks during the four years he was at the monastery.

"Part of the media's involvement in this maybe individuals there in the past will come forward with info of activities that would of interest to law enforcement," deputy W.T. Smith said.

Investigators say they do not know how many are left at the compound.

"I haven't been out there since search warrant was executed," Smith said. "I know we left an individual out there."

Throughout the day the Blanco County sheriff's office has had a visible presence outside the compound. In their words, watching and waiting to make sure no one tries to return who's been banned from the monastery.

All five individuals are facing the same charges, sexual assault of a child and engaging in organized crime, under Texas law defined as three or more people collaborating in criminal endeavor for benefit.

CBS 42 was told, the sheriff that allows for stiffer penalties if convicted.

They are all facing first-degree felonies.

According to detectives at least two of the four monks arrested at the monastery Tuesday afternoon, fought back when approached. The injuries they sustained are visible in their mug shots.

If convicted the men all face five to 99 years to life in prison. Bond has been set at $250,000 for each of them.