Priest Accused of Sexual Abuse Allowed to Move into His Own Apartment

By Amy Sherman asherman@MiamiHerald.com
Miami Herald [Lantana FL]
July 25, 2006

http://www.miami.com/mld/miamiherald/15118645.htm

The Rev. Neil Doherty, a retired priest who prosecutors say drugged and raped a young boy in the 1990s, can move into his own apartment, a judge decided today. Broward Circuit Judge Susan Lebow gave Doherty, 64, permission to move into an apartment in Lantana, in Palm Beach County.

Assistant State Attorney Dennis Siegel, however, said Doherty should not be allowed to move because he will be living alone. Currently, he lives with his sister in Palm Beach County.

For now, Doherty will have to wear the electronic ankle monitor he has worn since posting bond earlier this year.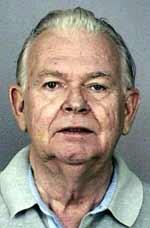 CHARGED WITH SEXUAL ABUSE: Prosecutors say Rev. Neil Doherty raped a boy.
Photo by The Miami Herald



A hearing is set for Monday to determine if Lebow will grant his motion to remove the monitor.

Doherty's attorney, David Bogenschutz, has said the monitor hurts Doherty and is making it harder for him to sleep.