Sabarimala Scandal: Seer Pleads Innocence

NDTV [India]
July 25, 2006

http://www.ndtv.com/morenews/showmorestory.asp?category=National
&slug=Sabarimala+scandal%3A+Seer+pleads+innocence&id=90623

When Sabarimala chief priest Kantaru Mohanaru admitted to the police that he did visit a woman in this Kochi flat, he simplified their job.

But they are also tracking down the five men who he claimed tricked him into posing with the women.

"We are looking for five people who were involved we are expected to do that very soon," said Padmakumar, DIG, Ernakulam Range.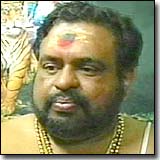 But Ayyappa devotees across the state who defended the priest during the Jayamala episode feel betrayed.

"Of course yes. Who will not get disturbed? A person holding such a high position and indulging in such immoral activities! This is unpardonable," said one devotee.

"Now the board should ensure that such people do not reach such high positions. They should be prevented from entering the holy places," said another.

Power reduction

Sabarimala has been in the news for the last month, first over the public spat between Astrologer Unnikrishna Panicker and the priests and then the Jayamala episode.

And the LDF government is now considering reforming the law to reduce the powers of the Travancore Devaswom Board.

"If the cabinet takes a decision to reform the law, I will pilot the law in the assembly, get rid of the unnecessary powers given to the Devaswom board, make it more democratic and beneficial to the shrine," said G Sudhakaran, Devaswom Board Minister.

Ayyappa devotees believe this is the time to deal with the series of problems affecting the famous hill shrine.

But this, they say will be possible only if the guilty, no matter who they are, are punished.