Authorities Raid Blanco County Monastery

KVUE [Blanco TX]
July 25, 2006

http://www.kvue.com/news/top/stories/072506kvuemonastery-cb-kk.207e5e6.html

Four monks were arrested Tuesday on charges of sexual assault of a child.

A fifth monk was already in jail for a previous crime, similar in nature.

Local, state and federal agents executed a search warrant Tuesday at the Christ of the Hills Monastery in Blanco County.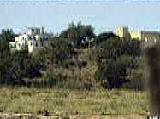 Several agencies raided a Blanco County monastery Tuesday
Photo by The KVUE News



Walter Paul Christley, 44, also known as father Pangratios, was arrested and charged with sexual assault of a child and organized criminal activity.

A Blanco County grand jury also indicted three more priests on similar charges, 40-year-old Hugh Brian Fallon, also known as father Tihkon, 44-year-old William Edward Hughes, known at the monastery as father Vasilli, and 59-year-old Samuel Alexander Greene, also known as father Benedict, the founder of the monastery.

Father Vasilli was also charged with sexual performance of a child.

Investigators said the men committed the crimes together.

The crimes they're alleged to have committed stretch back as far as 1993.

The monastery has faced criminal problems before.

Two of the priests charged Tuesday were also convicted in a 1999 case of indecency with a child.

One of those was sentenced to 10 years probation.

The other is still in prison.

The Blanco County sheriff said two men, who were between 14 and 16 at the time they were sexually assaulted by the priests, told detectives that the crimes happened at the monastery back in 1993.

"It's our believe that these young children were targeted, that they were specifically groomed just so these offenses could be perpetrated," Blanco County Sheriff Bill Elsbury said.

Elsbury believes there could be more victims out there. His department would like to talk to those folks.

The sheriff also anticipates more charges on the priests he already has in custody and he says there could also be more arrests coming soon.

Arraignment is set for July 31.

KVUE News reporter Shelton Green contributed to this story.