Monday Spotlight: Judge Carpenter Sits on Sports Bench When He's Not Working

Altoona Mirror [Pennsylvania]
July 24, 2006

http://www.altoonamirror.com/News/articles.asp?articleID=3430

Hiram A. Carpenter III


Age: 59


Position: Judge, Blair County Court of Common Pleas, 16 years


Family roots: St, Mary's, W.Va.


Raised: Corapaolis


Family: Dana Marie Montgomery, Hollidaysburg; six children


Education: Dickinson College; National Law Center, George Washington University


Unknown fact: The Hiram Carpenter Bridge in St. Mary's was named for his grandfather


Quotable: "Family means a lot to me. I'm proud of where my family has been, proud of where they are going."


Wants to see: West Virginia University play for and win the national championship.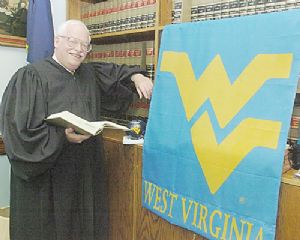 Judge Hiram Carpenter
Photo by The Mirror / Gary M. Baranec



By Phil Ray, pray@altoonamirror.com

Blair County Judge Hiram A. Carpenter was taught to work and play hard.

He presided over some of the biggest cases in Blair County legal history. He was the judge on the two-decade-old saga in which a local priest was accused of child sexual abuse.

He oversaw the first death penalty returned by a Blair County jury in 23 years.

Carpenter is tackling one of the most explosive murder trials in county history — Miguel Padilla, accused of a triple homicide.

The public rarely sees the other side, the off-time, thoughtful judge-turned-super-sports-fan.

Carpenter is at Altoona Curve games, Pirate games, Penn State football games, but most always at West Virginia University home and away football games.

Carpenter's love of sports is not a come-lately, middle-age thing.

Carpenter was a five-sport letterman in high school: football, baseball, basketball, tennis and volleyball.

When Carpenter married his wife, Dana, a Penn State University graduate who tends to love the arts, he made sports a family thing that now includes Dana, six children and a couple of his daughters' boyfriends.

Carpenter manages to keep his two worlds apart, except he sometimes wears a casual Mountaineer sports jacket to the courthouse, and he has the habit, now a tradition, of sprinting from his office to the bench as the court begins each day, a five-yard scurry reminiscent of a football player breaking from the huddle.

That separation of sport and court, however, was put to a severe test Jan. 2 when two judges were due to take the oath of office.

He didn't want to miss the 9 a.m. ceremony, but he also didn't want to miss the 8 p.m. kick-off of the West Virginia's appearance in the Sugar Bowl.

A plan was hatched.

Carpenter's family took the nine-passenger Suburban bearing 262,000 miles south.

Meanwhile, Carpenter attended the morning inauguration ceremony then made a beeline for the Baltimore-Washington Airport.

Carpenter says proudly, the whole family was in their seats an hour before kick-off and were able to witness what was among the greatest victories in WVU football history.

A lot of people love their college football teams, but one has to know that Carpenter is not a West Virginia University graduate. He graduated from Dickinson College in Carlisle and was a 1973 graduate of George Washington University's National Law Center.

His love of West Virginia goes beyond his love of sports. It's family.

Tons of Carpenters have graduated from WVU. It was know in the family as "The University."

But it's the state that the judge loves, as well.

He's a small-town boy with roots in St. Mary's, W.Va., population of about 2,000.

Carpenter said St. Mary's holds a "tremendous amount" of his family history, and he said the town always will be a part of him.

His grandfather was Hiram A. Carpenter, a St. Mary's businessman, the namesake for the Hiram A. Carpenter Bridge linking West Virginia to Ohio over the Ohio River.

Carpenter's dad, Hiram Jr., was in the steel business in Pittsburgh. The judge was born in Sewickley as his parents were moving from St. Mary's to the Pittsburgh area, and he was raised in Coraopolis.

The judge credits his mother, Mary, with making him a lawyer, a profession not in his family background.

"My mother began telling people I was going to be a lawyer when I was 3 years old," he said.

His father, he said, was a close companion and adviser who didn't know if he would go into law or business.

That all changed on a winter morning when Carpenter was seeking a job within 100 miles of Pittsburgh so he could fulfill his military commitment with an Army reserve unit that had just returned from 13 months in Vietnam when he joined.

He was interviewed locally for a job with Attorney Leo Mullen, whose roots were in Sistersville, W. Va..

Initially shocked by the redevelopment he saw in Altoona as he drove into the downtown, Carpenter felt right at home with Mullen, the attorney for the Redevelopment Authority.

He took the job and has lived in Blair County for 33 years.

While Carpenter calls the unpredictable nature of sports "a great escape for me," his real life as a judge tends to focus on just the opposite values.

He emphasis as a judge is on "being a gentleman," which means treating those in his courtroom with respect, a value his dad taught him.

He believes in communicating and explaining his decision to lawyers and the litigants. That often means long opinions.

"A courtroom," he said, "is a place where people can be heard, where they have a chance. I try not to inject my personality into things. Let the lawyers do their thing," he said.

He likes alternative dispute resolution, which means settling civil cases by means other than trial.

Aside from the wild world of sports and WVU football, Carpenter said, "I'm a home-to-office guy."

Carpenter talks about his time as the president of the Pennsylvania Trial Judges Association and a recent conference of judges devoted to civil case. He said he enjoys being a judge.

But, then, with little urging, the subject changes.

WVU football is coming up, and Carpenter said he's going to have trouble making all the games this year. The University plays in Mississippi this season, and he vows he will try to make the game.

It wouldn't be the first time the family has gathered in the Suburban and spent all Friday night on the road, and then gotten a little bit of rest, all eight, nine or 10, crowded into one motel room.

His goal now, "I want to see West Virginia win the national championship."

Mirror Staff Writer Phil Ray is at 946-7468.