Replacing Wuerl: 8 Bishop Candidates Emerge

By Ann Rodgers
Post-Gazette [Pittsburgh PA]
July 23, 2006

http://www.post-gazette.com/pg/06204/707982-85.stm

Eight bishops, including a hockey player and a social worker, have emerged as leading candidates to succeed Bishop Donald W. Wuerl, who led the Pittsburgh Catholic diocese for 18 years and is now archbishop of Washington, D.C. All are seen as rising stars in the church. Five now head smaller dioceses. Three are auxiliary bishops.

According to two sources with access to the process, the papal nuncio in Washington, D.C., Archbishop Pietro Sambi, will consider all eight before he sends three names to the Vatican's Congregation for Bishops, with his assessment of each.

The Vatican office will again vet the names and submit three, probably the same three, to Pope Benedict XVI. The pope might choose one of them, but he also can send the list back for further suggestions or name his own man.

The appointment isn't likely to be made before late October, but there is a push to make it before year's end, fast by church standards.

In alphabetical order, here is a look at the eight likely candidates:

BISHOP BLASE J. CUPICH, 57, of Rapid City, S.D., is a former rector of the Pontifical College Josephinum in Ohio, a Vatican-chartered seminary, and worked for the papal nuncio to the United States in the 1980s.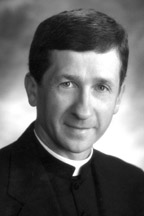 Bishop Blase J. Cupich



He was a candidate for presidency of the U.S. bishops conference in 2004, indicating respect from other bishops. In a testament to his work with victims of sexual abuse, the Survivors Network of those Abused by Priests endorsed him in that 10-way race. He is chairman of the bishops' Vocations Committee, which helps recruit priests. Ordained for Omaha, Neb., in 1975, he spent six years in parish ministry, three teaching high school, and was a pastor when he was appointed to lead the Rapid City diocese in 1998.

Croatian by heritage, he is bright, outgoing and a centrist in church matters. He has good relations with the news media and has blogged for his diocesan Web site. In 2004, when some bishops would not give communion to Catholic politicians who supported abortion rights and some said it was a sin to vote for them, Bishop Cupich took a wider view.

"We cannot cherry-pick particular issues. We have to be willing to talk about all issues. Our position begins with protecting the unborn, but it doesn't end there," he told the Rapid City Journal.

Bottom line: He appears destined for a larger diocese and his views would be welcomed by those who admired Archbishop Wuerl.

BISHOP KEVIN J. FARRELL, 58, an auxiliary of the Washington, D.C., diocese, is credited with its day-to-day management under the globe-trotting tenure of retired Cardinal Theodore McCarrick.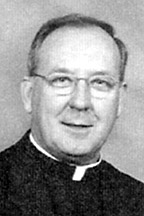 Bishop Kevin J. Farrell



A native of Dublin, Ireland, he was ordained in 1978 for the conservative and controversial Legionaries of Christ. He studied in Spain and in Rome, becoming a university chaplain in Mexico. He left the Legionaries and went to Washington in 1984.

He served three parishes and was tapped by the late Cardinal James Hickey for Hispanic ministry, at which he excelled. He was an interim director of Catholic Charities for the archdiocese, and from 2000 until his appointment as an auxiliary bishop in 2002, he was pastor of a parish.

His brother, Bishop Brian Farrell, is a former official of the Vatican Secretariat of State who now serves in its Congregation for Christian Unity.

Bottom line: His assistance will be essential to Archbishop Wuerl as he settles in, but he is expected to receive his own diocese within a year. He might go somewhere with a larger Hispanic population.

BISHOP JOSEPH E. KURTZ, 59, of the Diocese of Knoxville, Tenn., is a native of Mahanoy City, Schuylkill County. He is chairman of the U.S. bishops' Committee on Marriage and Family Life, which makes him the bishops' point man on gay marriage.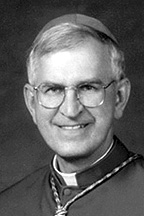 Bishop Joseph E. Kurtz



But his forte is caring for the poor. His father was a coal miner. His older brother, who died in 2002, had Down syndrome and lived with the bishop. After his 1972 ordination for the Diocese of Allentown, he became a licensed social worker.

He ran the diocese's social services. He was also a successful parish pastor from 1986 to 1999, before going to Knoxville.

There, he sponsored joint social services between Catholic Charities and Lutheran Services, and was honored for his outreach to the area's new Hispanic community. He lobbied state legislators for tax reform and spoke at a rally to abolish the death penalty.

A Pittsburgh priest called him utterly unpretentious.

"I think he would be accepted by the clergy almost as a local guy," the priest said.

Bottom line: He would answer the prayers of priests for a bishop with parish experience. Catholic Charities here is in transition and he appears to be an ideal choice to position it for the future. The only drawback is that the church tends to keep Southern bishops in place for a long time.

BISHOP JOSEPH P. MCFADDEN, 57, auxiliary of the Archdiocese of Philadelphia, was a high school teacher and basketball coach before he entered seminary. He was ordained at 33.


Bishop Joseph P. Mcfadden



He spent 11 years as secretary to the late Cardinal John Krol, and was president of a Catholic high school for eight years. From 2001 until he was made a bishop in 2004, he was pastor of a large parish and reportedly was the choice of other priests for the auxiliary position. He was not tarred by the sexual abuse scandal that rocked the archdiocese.

"He's a guy's guy and a priest's priest," said one Philadelphian.

He has excellent relations with the news media and is seen as a mediator. He oversees education.

Bottom line: Pittsburgh's good management required hard decisions that left bruises. Bishop McFadden is seen as someone who would deliver TLC while nurturing parish life. But he has been an auxiliary for only two years. Cardinal Justin Rigali of Philadelphia might want to keep him.

BISHOP JOHN C. NIENSTEDT, 59, of New Ulm, Minn., is the kind of bishop Pope Benedict XVI is expected to appoint to challenge the forces of secularism. He has a doctorate in bioethics from Rome and served in the Vatican's Secretariat of State from 1980 to 1985.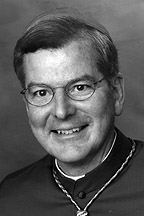 Bishop John C. Nienstedt



Some observers view him as more conservative on both church and public issues than Archbishop Wuerl, but the two are good friends.

Born in Detroit, he is three-fourths Irish. After his 1974 ordination, he spent three years in full-time parish ministry, with much part-time work later on. He was rector of the Detroit seminary from 1987 until 1994. As a Detroit auxiliary bishop from 1996 to 2001, he was known for work in Catholic-Jewish relations.

Posted in 2001 to New Ulm, a 9,900-square-mile diocese in southern Minnesota, he followed the 26-year tenure of a liberal icon, the late Bishop Raymond Lucker. Any bishop of the current era would have been a shock, and some priests complained of his top-down, by-the-book management. Some outside observers said it was a credit to Bishop Nienstedt's pastoral skill that riots didn't erupt among the clergy. He is credited with increasing vocations to the priesthood.

He led a statewide campaign urging parishioners to send postcards to their legislators supporting a ban on gay marriage.

Bottom line: His work in bioethics and Catholic-Jewish relations would serve him well here, but he is rumored to be in line for an archdiocese.

BISHOP THOMAS J. PAPROCKI, 53, an auxiliary of Chicago, is a canon and civil lawyer with credentials on the Catholic left and the Catholic right.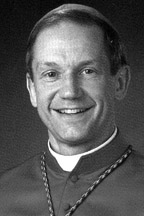 Bishop Thomas J. Paprocki



A Chicago native, his father owned a pharmacy, which might account for his strong defense of pharmacists who refuse to fill prescriptions they deem immoral. He's known as an advocate for the poor. After his 1978 ordination, he became a lawyer and founded a legal clinic for the poor, where he still volunteers.

He earned a canon law degree in Rome, speaks five languages, and is the archdiocese's liaison to the Polish community. His first brush with notoriety came in 1986, when he ruled that two murdered mobsters could not receive a Catholic funeral because of their crimes.

A protege of the late Cardinal Joseph Bernardin, he served 15 years as vice chancellor and chancellor. He spent his first eight years in part-time parish ministry and was a pastor from 2000 to 2003, when Cardinal Francis George made him an auxiliary bishop.

He is a marathoner who prays the rosary as he runs. He also plays hockey in a "no checking" adult league.

Bottom line: He has earned a diocese, and his Polish heritage and love of sports would be well-received here. But Cardinal George might still need his legal eagle to deal with a sex abuse scandal that hasn't died down. Those legal skills might eventually be a ticket to a diocese with more problems than Pittsburgh has.

BISHOP DENNIS M. SCHNURR, 58, of the Diocese of Duluth, Minn., organized the 1993 World Youth Day in Denver with the late Pope John Paul II. The event marked a positive turning point in the pope's relationship with U.S. Catholics and in young Catholics' relationship to the church.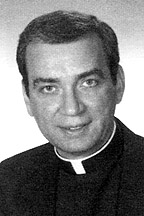 Bishop Dennis M. Schnurr



A canon lawyer and native of Sheldon, Iowa, Bishop Schnurr studied in Rome and was ordained for the Diocese of Sioux City. He spent three years in parish ministry, then worked for the pope's nuncio to the United States from 1985 to 1989. In 1989, he was hired by the U.S. Conference of Catholic Bishops to oversee its peace and social justice projects. He was the bishops' general secretary from 1995 until 2001, with a staff of 350 and a budget of $50 million.

He went to Duluth in 2001. He's a good communicator, and vocations to the priesthood have increased, in part due to an innovative youth ministry. He kept up his social justice work and was the keynote speaker when Minnesota religious leaders went to the state capital to lobby for programs to help the poor.

He is treasurer of the U.S. Bishops Conference, a difficult job during a time of deficit and downsizing.

Bottom line: Exceptionally competent, he would be a boon to youth ministry here, but his duties with the bishops conference are so demanding that its president might plead to keep him in Duluth for now so that he has time for conference work.

BISHOP DAVID A. ZUBIK, 56, of the Diocese of Green Bay, Wis., is a popular former auxiliary here. Some priests and local ecumenical leaders want him back.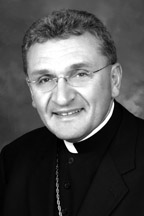 Bishop David A. Zubik



A Sewickley native, he was ordained in 1974. He spent five years in parish ministry before becoming vice principal of Quigley Catholic High School in Baden. He has a master's degree in education and is an excellent homilist. He is noted for his deep spirituality and life of prayer.

He became secretary to then-Bishop Anthony Bevilacqua in 1987 and rose through the chancery ranks. He was a key player in the diocesan reorganization that closed and merged parishes. He was made a bishop in 1997.

He was sent to Green Bay in 2003 to overhaul its administration. He has undertaken a Pittsburgh-style reorganization, but protests do not appear to have harmed his reputation. His Bishops' Appeal last year surpassed its goal of $4.8 million.

In 2004, he urged Catholics to make opposition to abortion and gay marriage top priorities when they voted, but he did not advocate denying communion to Catholic politicians who support abortion rights.

He has made outreach to Hispanics a priority and issued a strong statement urging compassion for all immigrants.

In church, "people are not illegal. People are people," he wrote.

Bottom line: He represents a vote for continuity in the management that has made Pittsburgh a plum diocese, but he's a long shot because of his short tenure in Green Bay, where his work is in midstream.

(Ann Rodgers can be reached at arodgers@post-gazette.com or 412-263-1416.)