Gonsalves Gets a Year

By Melissa Tanji
The Maui News
July 21, 2006

http://www.mauinews.com/story.aspx?id=21687

Wailuku – Former Maui Catholic Church deacon Ron Gonsalves was sentenced Thursday to one year in jail and 20 years' probation for repeatedly sexually assaulting a boy over a three-year period.

Gonsalves, 69, declined to make a statement in court and appeared almost emotionless during his sentencing before acting 2nd Circuit Judge Rhonda Loo.

"You were in a position of trust, in a position of power. People looked up to you. It was a horrible path to take," Loo said.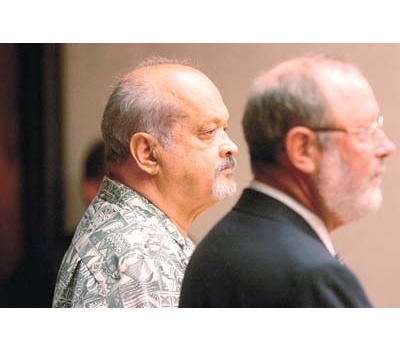 Former deacon Ron Gonsalves (left) stands with lawyer Philip Lowenthal during his sentencing Thursday morning in 2nd Circuit Court in Wailuku.
Photo by The Maui News / AMANDA COWAN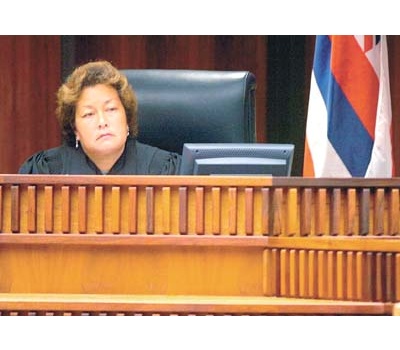 Acting 2nd Circuit Court Judge Rhonda Loo listens to comments from the lawyers during the sentencing of former deacon Ron Gonsalves Thursday morning in Wailuku.
Photo by The Maui News / AMANDA COWAN



"You destroyed, you harmed many, many lives. The damage you have done is going to take a long time, if ever, to be undone."

The victim, his family, as well as Gonsalves' family and supporters were in court Thursday morning, but none spoke during the hearing.

Loo said she read 30 to 40 letters of support for Gonsalves and told him she had to balance that with what is in the best interest of the victim.

She said a boundary was made, and "you crossed that boundary. It appears, from all the people who support you – they all say you will not cross this boundary again. That's how much they feel for you and support you."

In sentencing Gonsalves, Loo followed the prosecution's and defense's recommendations to sentence him under the expedited sentencing program, which waives the necessity for the victim to testify in court and requires the defendant to plead guilty to the charges. It also gives the defendant a chance at probation rather than face a long prison term. (See story on Page A4.)

Gonsalves, who was free on $100,000 cash bail, was ordered to begin his one-year jail sentence immediately following the hearing. After being released, he will be under house arrest for three years. He also will continue with sexual offender and other types of treatment deemed necessary.

Gonsalves was sentenced to 20 years' probation for 30 counts of first-degree sexual assault and two counts of attempted first-degree sexual assault. He was also given five years' probation for 30 counts of third-degree sexual assault. All terms were ordered to run concurrently. He was also given credit for time he has already served in jail and was ordered to stay away from minors.

Gonsalves is also required to set up a trust fund for the victim's education and emotional needs and was ordered to write a letter of apology to the victim.

Bishop Larry Silva of the Catholic Diocese of Honolulu, issued a written statement Thursday afternoon saying Gonsalves "no longer has the faculties to function as a deacon or in any other ministerial capacity in the Diocese of Honolulu."

"We reiterate our support for the young person who had the courage to report this crime," Silva said. "I ask all the people of the Diocese of Honolulu to lift this person up in prayer, that there may be healing from the Lord, who is the Great Healer of our souls."

He also asked for prayer for others affected by the crime, including family, friends, as well as the former deacon and parish community.

"We also pray for Ron Gonsalves himself."

Gonsalves, a lifelong Maui resident, served as a church deacon and was administrator of St. Ann's parish in Waihee. He also worked at Hawaiian Airlines for nearly three decades and was active with St. Anthony Church in Wailuku.

Deputy Prosecutor Robert Rivera said the prosecution determined it was "in the best interest of the child" to have Gonsalves enter into the expedited sentencing program.

Rivera said the decision was made after many meetings with the victim's family, a 2nd Circuit Court judge, as well as a court-appointed guardian.

"These cases are taken by a case-by-case basis," Rivera said. "We look at the victim's needs, the family's needs and the appropriate punishment.

"This has created a serious hardship on their family. They've gone through a lot. It's changed the entire complexity of their family."

Rivera, who has been prosecuting sexual assault cases since the early 1990s, said officials have worked to make it easier for children to report such crimes.

"This case is an example that sets us back," he said.

In public statements, parishioners said they couldn't believe Gonsalves would have committed the sexual assaults, Rivera said.

"It causes our children to lose confidence or not have confidence," Rivera said. "It's one thing to support a sexual predator, but it's another thing to attack the victims of this crime."

He said many letters from supporters described Gonsalves' community activities for the past 50 years.

"That's the face he wants them to see," Rivera said. "The face they don't see is the sexual predator that caused harm on a boy and his family."

Rivera said he expected Gonsalves to make a statement about his actions.

"He hasn't made a statement, judge, and that's his choice."

But defense attorney Philip Lowenthal said an "apology can take many forms."

Lowenthal said Gonsalves pleaded guilty to the charges and has established a trust for the treatment, therapy and education of the victim.

Lowenthal said the expedited sentencing is "the most restorative approach to resolving this case."

Gonsalves pleaded guilty on May 17 to 62 counts of sexual assault that began when the boy was 12. It lasted three years, ending in June 2005.

As Gonsalves pleaded guilty in May, he said he was doing so "because it's true."

The incidents occurred at Gonsalves' home as well as St. Ann Church in Waihee.

Gonsalves was placed on administrative leave on June 22, 2005, after church officials first learned of the investigation of alleged sexual assault.

Gonsalves was ordained a deacon in 1986 after four years of training and was an administrator of St. Ann's parish since 1999. A deacon is a cleric ranked just below a priest in the Catholic Church.

In his written statement, Silva said: "We in the Diocese of Honolulu are doing all we humanly can to prevent any other child or young person from being abused, and we commit ourselves to victim assistance and safe environment training for all our clergy and church workers."

• Staff writer Lila Fujimoto contributed to this report.
• Melissa Tanji can be reached at mtanji@mauinews.com.