Sunday School Teacher Feels 'Hurt' over Church Scandal

By Nadine Wilson
The Jamaica Observer [Jamaica]
July 19, 2006

http://www.jamaicaobserver.com/news/html/20060718T210000-0500_109402_OBS_S
UNDAY_SCHOOL_TEACHER_FEELS__HURT__OVER_CHURCH_SCANDAL_.asp

A senior lecturer and Sunday school teacher who has spent more than 30 years telling people about God's love said yesterday that she felt "hurt" that the deacon at the Dayton Avenue Church of God had failed to prevent the alleged sexual assault of a thirteen-year old school girl by three teenage boys.

"This ought not to be found amongst those who worship God, and neither should the response given by the church be amongst those who know God," said Karen Morgan.

Morgan, a senior lecturer at the Mico University College in Kingston, was addressing Sabbath and Sunday School teachers at a luncheon hosted by the Kiwanis Club of Kingston in their honour.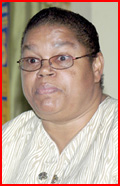 Karen Morgan, a senior lecturer at the Mico University College addresses Sunday and Sabbath school teachers at the Kiwanis Club of Kingston luncheon at the Hilton hotel yesterday.
Photo by Karl McLarty


Deacon Donovan Jones and the three boys were last Tuesday charged with the sexual assault of the girl, which reportedly took place in the back of a van in April. The church later defended the deacon, and criticised the member who went to the press with the story.

"The church must never compromise with sin," Morgan said to loud applause yesterday.

She reminded the Church of its moral obligations to society, while urging Sunday School teachers to be ambassadors for Christ by helping to change lives.

"We are not immune to sin... but we have a moral obligation to the churches we serve, to the communities we serve and to the public at large...not only must we acknowledge it, but we must live it," she said.

Added Morgan: "Christians need to recognise that whether or not people want to accept God, they are watching us...never trust to do things your way, because we are in partnership with God."

But despite the controversy surrounding the Church, Morgan said it was still effective.