Priest May Face Prison

By Mike Heine
The Janesville Gazette
July 19, 2006

http://www.gazetteextra.com/mcguire071906.asp

Elkhorn — A priest convicted of repeatedly sexually assaulting two boys in the late 1960s was ordered Tuesday to serve 20 years probation, and he'll go to prison if he loses an appeal.

Judge James Carlson hung a seven-year prison sentence over the head of the Rev. Donald McGuire.

The 75-year-old retired Jesuit priest, who was once the spiritual advisor to Mother Theresa's order of nuns, still maintains he is not guilty.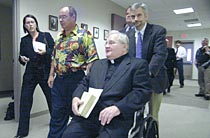 The Rev. Donald McGuire, seated, enters a Walworth County courtroom Tuesday to be sentenced for sexually assaulting two boys in the late 1960s. McGuire says he's not guilty.
Photo by Terry Mayer/Special to the Gazette


"In spite of my absolute silence during the trial, when so many terrible things were said about me, you can very well think I'm guilty because I chose to say nothing in my defense," McGuire told Carlson. "But your honor, you are looking at an innocent man."

Carlson issued the sentence Tuesday after nearly three hours of argument and testimony.

In April, a jury found that McGuire sexually molested two boys at a Fontana home in 1967 and 1968. The boys-students of McGuire when he taught at Loyola Academy in Wilmette, Ill.-were in their early teens at the time. They were staying at a private home on Geneva Lake when the assaults occurred. They now are in their early 50s.

Both men say they aren't the only victims of McGuire's molestation.

"I was not the first, and I was not the last," said one of the men, who is now 52 and living in Arizona. "He's had 35 years and hasn't shown any remorse, nor have his comrades or his superiors."

Both men want McGuire sent to prison. The other man-Victor Bender, 53, of Massachusetts-said probation would be sufficient only if McGuire confessed and identified other victims.

Bender gave The Janesville Gazette permission after the April trial to identify him, even though he is a victim of sexual assault.

Wisconsin prosecutors were allowed to charge McGuire decades after the assaults because the statute of limitations clock never started ticking. That's because McGuire never lived in Wisconsin after the crimes.

District Attorney Phil Koss said the fact that other priests were accused of sexual misconduct was not the reason for charges against McGuire.

"We have a man of the cloth, a man who thousands and thousands of people have been touched by (spiritually), and we have two boys who came forth and said what happened to them," Koss said.

McGuire, who sat stone-faced throughout much of the hearing, declined to comment after Carlson issued the sentence.

Defense attorney Gerald Boyle plans to appeal the conviction and convinced Carlson to stay the seven-year prison term until an appellate court makes a decision. That could come within a year to 18 months, Carlson said.

Boyle said allegations that McGuire repeatedly molested the boys at Loyola Academy should not have been allowed as evidence.

"We think there is a serious problem with the other-acts evidence," Boyle said after the hearing.

"We want justice, too," Boyle said. "The victims are entitled to it, and we are entitled to it."

Koss said he may file a cross appeal, noting that Carlson did not allow the prosecution to use additional evidence of other acts.

"I'm sure the court of appeals will look at this," Koss said.

McGuire will live at a Jesuit nursing home in Waukegan, Ill., until the court of appeals decides. If his appeal fails, McGuire will go to prison.

Boyle said McGuire suffers from congestive heart failure, diabetes, kidney disease and arthritis. Boyle said McGuire needs occasional oxygen, takes 15 to 20 prescription pills a day and walks no more than 30 feet without stopping to catch his breath.