A Crescendo of Grief

By Jean Lowrie-Chin
The Jamaica Observer
July 17, 2006

http://www.jamaicaobserver.com/columns/html/20060716T220000-0500_
109264_OBS_A_CRESCENDO_OF_GRIEF.asp

It has been a crescendo of grief. First, we heard about the abuse of a 13-year-old schoolgirl by teenage boys in a van driven by a church 'deacon' who appeared complicit with the crime. Then we got reports from the media that a lady elder was upset with the whistle-blowers, implying that a slap on the wrist by the church was all that the offenders needed.

Now we are hearing that the videotape which was turned in to the media by a youngster with a conscience, had been made over several weeks. The traumatised 13-year-old had not been subjected to one horrible event, but a series, from which a pornographic video was produced, entitled The Dayton Hour 'directed and produced' by said 'deacon'.

Sadly, this is one of many churches of various denominations worldwide that have been implicated in such scandals.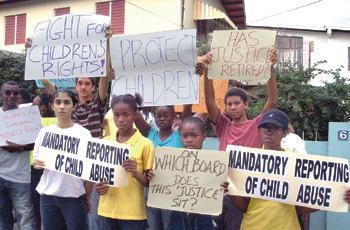 Demonstration by Women's Media Watch at The Church Dayton Diamond Ridge last Monday.



Outraged members of Women's Media Watch (WMW), Fathers Inc, and other groups gathered outside the church on Dayton Avenue last Monday, demanding that our laws be amended to expose child molesters. WMW has been sharing information and thoughts since this shocking story emerged, and worsened beyond our worst fears.

Comments from WMW and other concerned Jamaicans:

"To be so deeply confused, in denial about what is the real issue so as to be unable to summon the right (feeling and moral) responses as a so-called defender of morality IS madness." - Audrey Roberts.

". it's all the 'Amens' from the congregation that concern me too! Religion and politics provide such clear opportunities for analysis and leadership... and such clear and absolutely present dangers." - Suzanne Francis-Brown.

Demonstration by Women's Media Watch at The Church Dayton Diamond Ridge last Monday.

"This is where it is extremely important for other churches to openly denounce such teaching... it is clear this so-called church will go to any lengths to make it something other than what it was. a violent and disgusting rape, captured on film for the amusement of other deviants, including the so-called 'deacon'"... - Joy Hewett.

"I believe we should (1) focus on the follow-up with the family...to offer practical support. (2) push Women's Manifesto 2000. .for endorsement to carry it forward for their action in collaboration with Women's Manifesto Committee for implementation by Gov't and by civil society where appropriate for us. I was encouraged to see the involvement of young people and mature men [at the demonstration]". - Linnette Vassell.

"Sadly, I have read the transcript, (and seen some) of the full length video tape which has also been published in substantial part by XNews (for their own sensational reasons). The tapes show that the scenes were shot over different days, that the scenes are staged for the camera in what is obviously a child porn production with the deacon as the producer/director!! The tape has graphics introducing it as The Dayton Hour and gives warning that what is to be viewed is a graphic depiction of child porn material...

The girl and the boys are 'actors' in the 'movie'... I've seen a few minutes of it (all I could stomach). All the young people are victims under the Child Care and Protection Act and I want to know what the law says with respect to what is to happen to all of them, the girl included. Seems to me they are all in need of 'care and protection'." - Carol Narcisse.

". the 'actors'. are mere pawns in the hands of wicked people hiding under the cloak of Christianity. When predators come under the cloak of 'the church' it is easy to influence the youth and the spiritually uninformed. Lord, help us all. We. urgently need to. deal more specifically with the matter of child pornography (which seems to be on the increase in Jamaica); and also the equally abhorrent matter of human trafficking." - Grace Christie.

"I am heartsick. Has anyone been able to reach the victim? I would not like her to be exposed to any media publicity, or even to a barrage of sympathisers, but I hope that some helpful professionals have been able to reach her." - Hermione McKenzie.

"I know that normally many of us would feel that such things should not be shown on TV, but then, these are not normal times. I believe that CVM did this precisely to shock people into admitting how horrific and serious the situation is. This is one time I agree with the TV exposure ." - Judith Wedderburn.

"This is a global problem that has expanded with the increased use of the Internet and the convergence of telecommunications and computer technology. The bottom line is more research is needed to assess the local scope of the problem and to guide interventions." - Leith Dunn.

"We are calling not just for legislative reform in relation to the actual sexual offences, we want the Government to put in place the registry of child abusers. We want mandatory reporting of sexual offences." - Hilary Nicholson.

"I wonder what the progressive men plan to do about responding to such increasing acts of violence against women and girls? .It speaks to a crisis of how we relate as men and women..." - Taitu Heron.

"So far, it has been extremely strengthening and encouraging for me as member of WMW to see that two men representing two organised men's groups have spoken out based on a press article I saw, condemning what occurred." - Patricia Donald.

"We are voicing our disgust with this particular church for dealing with it in the way that they did. Instead of defending it, they should have condemned it and reported it to the police immediately. - Lanny Davidson, of Fathers in Action and Fathers Crisis Centre.

Our hearts runneth over with grief.

Let's back our Nurses!

At press time (last Friday), the Nurses Association was meeting with the minister of finance. When you compare the long, irregular hours of a fully qualified Registered Nurse, she earns less than a household helper in upper St Andrew.

She takes home scarcely $6,000 per week. This is the nurse that we depend on to administer medication, monitor and assess the critically ill, and the fragile newborn. Into those precious hands we are putting a salary that will not qualify her for an NHT loan for the most basic type of shelter.

Not only should we be encouraging the nurses to take action till they get justice, we should be on the front line with them.

Because of their dedication to their work and obligation to their families, leaving them little time to push their own envelope, successive governments have taken advantage of our nurses. Meanwhile, other countries are courting them with big bucks and perks. The money has to be found - or we will lose our nurses and put our own lives in danger.

lowriechin@netscape.net