It's a Judgement Call
Pastors Says They Cooperate with Police, Sometimes

By Luke Douglas
The Jamaica Observer
July 16, 2006

http://www.jamaicaobserver.com/news/html/20060715T180000-0500_
109124_OBS_IT_S_A_JUDGEMENT_CALL_.asp

Church leaders say they cooperate with the police in sharing information of a criminal nature, but not all the time.

But spokesmen for the Roman Catholic Church and the United Church of Jamaica and the Cayman Islands, two of the oldest traditional denominations in the island, say there are circumstances where they will not share certain information with the authorities.

A priest, said Roman Catholic priest Monsignor Richard Albert, should not divulge what is told to him in confession.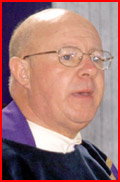 Monsignor Richard Albert



"The seal of confession is absolute," said Albert in a Sunday Observer interview.

Roman Catholic canon law considers the the sacramental seal "inviolable", making it absolutely forbidden for a confessor to betray in any way a penitent given in words or other means.

Priests may not reveal what they had learned during confession to anyone, even under the threat of their own death or that of others.

Albert said a priest cannot tell the police about a crime that is told to him in a confession

"He can advise the person to seek help, or make a report, but the priest himself can't," he said.

Albert declined to discuss the particular case involving the deacon of the Dayton Avenue Church of God who, along with three teenaged boys, is facing multiple charges related to the sexual assualt on a teenaged girl. There are questions outstanding as to whether the pastor of the church, a retired judge, knew about the incident but did not report it to the police.


Rev Colin Cowan



The founder of the church, during a sermon last Sunday, chastised persons who leaked a video recording of the event to the media, which subsequently reported the matter to the police.

"I really don't want to comment on another church, but I will say that the abuse of women and children is more widespread than we know or what we are willing to accept," the priest said.

The United Church practices counselling rather than confession and so believes knowledge of crimes should be reported to the police.

"We don't use the word confession, we use the term counselling; there is a subtle difference between the two," said Rev Colin Cowan, general secretary of the United Church.

"In a confession situation, you come forward with the raw facts as you have them. In a counselling situation, you present yourself with your story and the challenges you are facing." For the United Church, its policy is that a pastor or counsellor should report criminal matters to the police, even if told in confidence.

"I would be very unconfortable in saying that because a person who has committed murder or rape has entered into my confidence, I am going to withhold that information and let the person go free," he said.

"That would be irresponsible."

The minister said such situations could be "complex and difficult", but notes that the pastor has a responsiblity to see that justice is done.

"In this particular case, you are talking about a child," said Cowan.

"It is our duty..."

He said there have been cases in which criminal matters have come up during counselling sessions.

In some instances, the person were encouraged to give themselves up, accompanied by the pastor, to the police.

Cowan said however, that there were cases in which pastors had withheld information from the police and the courts, with serious consequences.

"We had had a case where someone entered into the confidence of one of our ministers (in the Cayman Islands). The court wanted her to divulge all that was shared in that confidential relationship, but she refused as what she was told had nothing to do with a criminal case," said Cowan.

The result was that the reverend was thrown in jail for not cooperating with the court.

"She said to share the information would be to betray her trust and to compromise her ordination vows."

Cowan, however, disagreed with the Dayton Avenue church which said the sexual assualt case could be resolved internally.

"Internal discipline only relates to how that person's action compromises the integrity of the ministry of the church. When it comes to a criminal matter, it is outside the jurisdiction of the church, for which the law must run its full course," said Cowan.

But, even as the criminal case is being pursued, the church should ensure that pastoral care is extended to the accused individuals, the reverend added.

editorial@jamaicaobserver.com