JCC Wants Sex-Abuse Manual
President Admits Churches Not on Top of Sexuality Issue

By T K Whyte
The Jamaica Observer
July 15, 2006

http://www.jamaicaobserver.com/news/html/20060715T010000-0
500_109102_OBS_JCC_WANTS_SEX_ABUSE_MANUAL.asp

With reports of sexual misbehaviour in the church gaining currency, the umbrella Jamaica Council of Churches (JCC) confirmed yesterday it had commissioned the preparation of a procedural manual to help churches handle cases of sexual abuse by their members.

"The fact of the matter is sex and sexuality is a challenging issue facing all society and we felt we would prepare this resource document with a view to offer it to all our churches, for use in the unlikely event that it becomes an issue for them in the days ahead," JCC president Rev Karl Johnson told the Observer.

Johnson, presiding over his first executive meeting since being elected JCC president a month ago, commissioned the project Thursday for a November first draft and a January 2007 implementation date.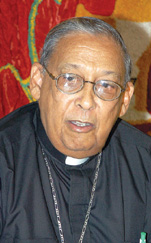 BURKE. the most we can do is to share it with the churches


But he declined yesterday to name the individual spearheading it, saying only that it was a church expert who would be able to draw on resources wherever necessary.

Johnson admitted that many churches did not have a well thought-out method of dealing with sexual abuse, a sensitive issue for most Christians.

"Anecdotally, we have cases that surface and in which cases, even people involved, such as victims or victim-parents, did not want to take it further," he said.

The Council's decision follows two headline-grabbing incidents two weeks ago that stirred debate and anger in the nation. On July 4, the Observer quoted an Anglican priest who complained that some members of the clergy were "feeding sexually off the flock" and urged that when found they be taken off front-line duties.

The following day, there were reports that a deacon of the Dayton Diamond Ridge church allegedly watched the reported sexual abuse of a 13-year-old girl by three young men, one of whom allegedly videotaped the ordeal.

The deacon, 46-year-old Donovan Jones, and the three teenage boys, Jones Rogers, 18, Shamar Morgan, 18, and an unnamed 14 year-old boy have been arrested and charged. The case is now before the courts.

Jones, Morgan and Rogers were slapped with nine counts of indecent assault, while the 14-year-old accused is facing five charges. They have all been remanded in custody.

Although the Dayton Diamond Ridge church is not a JCC member, Johnson said the Council's executive spent some time discussing the "unfortunate incident of a member of one of our churches, not a member church of the council, but no doubt as part of the Christian community and as a matter that, understandably so, has attracted much national interest".

"We spent some time as a council reflecting on it and we have commissioned the preparation of a document which would provide us suggestions. guidelines on how we could respond to cases of this nature," said Johnson, who is also general secretary of the Jamaica Baptist Union (JBU).

Pointing out that individual JCC denominations - such as the Roman Catholics, Methodists and Baptists, already had a code of ethics that spoke mainly to the procedure of dealing with sexual abuse and other challenges - he said the document would be offered as a resource to all JCC member bodies in the first instance, then to other umbrella church groups.

Such groups presumably include the West Indies Union Conference of Seventh-day Adventists, the Jamaica Association of Evangelicals, the Full Gospel Ministerial Fellowship, the Church of God in Jamaica and the Fellowship of Independent Baptist Churches.

Supporting Johnson, JCC executive member, Roman Catholic Archbishop of Kingston, the Rt Rev Lawrence Burke, welcomed the procedural manual, but stressed that it could not be foisted on anyone.

"The most we can do is to share it with the churches and each church will decide whether they want to use it or not, but at least we are doing something," said Burke.

Although declining to comment on the allegations of the sexual abuse as the matter was in the courts, he nevertheless noted how badly the Dayton Diamond Ridge church had handled the incident.

"I would have hoped that from the experience of what the Catholic Church went through in the (United) States, how badly they handled their cases there, that churches all over the world would learn from that example how to handle these cases in a better way," Burke remarked.

Both Burke and Johnson expressed disappointment that the television media had shown the alleged videotape of the girl's ordeal.

"It was very inappropriate to show the tape on television although they did not show the victim's face, but people knew who that person is... I don't see anything positive coming out of something like that, so I think they (media) were very irresponsible too.. My hope is that all of us church, media and society will learn from this," Burke urged.