Dallas Bishop to Offer Resignation
Growth: He Hopes for Hispanic Successor to Lead Booming Population

By Jeffrey Weiss and Brooks Egerton
WFAA [Dallas TX]
July 14, 2006

http://www.wfaa.com/sharedcontent/dws/wfaa/latestnews/
stories/wfaa060714_wz_grahmann.f5343ce.html
[See also Sex Abuse Scandal, Lawsuits, Calls for His Job Abounded, but He Remained Quiet, Defiant, by Brooks Egerton, Dallas Morning News (7/14/06).]

Bishop Charles Grahmann, head of the Dallas Catholic diocese, will offer his resignation Saturday – an offer he said he hopes the pope quickly accepts. He turns 75 that day, the age when all Catholic bishops are required to send resignation letters to the Vatican.

How much longer Bishop Grahmann will serve is up to Pope Benedict XVI. But the bishop said he is ready to end his often-contentious 16 years in Dallas.

"I hope that he writes on my letter; 'You can go fishing,' " Bishop Grahmann said in an interview last week.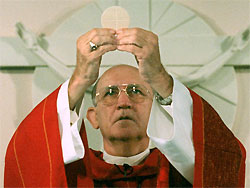 Bishop Charles Grahmann
Photo by the DMN


The bishop said he hopes his successor – who has not been named – is a Hispanic bishop with enough administrative experience to guide a sprawling, nine-county diocese divided by class and culture.

"He will have to bridge the gap between the rich and the poor," he said.

Bishop Grahmann will leave a legacy of massive growth – and appalling scandal.

When he took over in 1990, about 230,000 Catholics called the Dallas Diocese home. Today, the diocese counts almost 1 million – a growth rate more than three times that of the diocese's general population. Most of the new arrivals are Hispanic.

The scandal: Even before disclosures of child abuse by Catholic priests rocked the U.S. church elsewhere, the Dallas Diocese became infamous in 1997, with the civil trial of Rudolph Kos, who molested altar boys in three Dallas parishes.

Although much of the abuse happened before Bishop Grahmann came to Dallas, he was called to testify at the trial. A Dallas County jury decided that he and other church officials had been "grossly negligent" and had conspired to cover up the abuse and its aftermath. The jury awarded a total of almost $120 million to 11 victims. (Later, the diocese settled with the victims for about one-fourth of that amount. Mr. Kos, defrocked, is serving a life sentence.)

The Dallas Diocese will be dealing with the sex scandal's aftermath – legally and morally – for years to come.

Depending on whom one asks, Bishop Grahmann is either confident or stubborn, supportive of his priests or needlessly defensive, compassionate or unfeeling toward the abused.

"He is everything good," said Edmund Achu, who moved from Nigeria to Dallas 13 years ago. Like immigrants from many lands, he believes that Bishop Grahmann opened up a church that had been much more welcoming to Anglos.

"A train wreck," was the assessment of Wick Allison, publisher of D magazine and a prominent Catholic critic of the bishop. "He left the church with a very low morale, dispirited and with personnel problems rife throughout the organization."

Even some whose opinions of the bishop are not so extreme agree that the next man will be dealing with divisions in the diocese.

"The new bishop is going to really need to be a healer," said the Rev. Mark Seitz, pastor of St. Rita Catholic Community in North Dallas. "I think that work has, in many ways, begun. But there is much that remains to be done."

In 1990, North Texas was about to be hit with a tsunami of immigrant Catholics. Bishop Grahmann, who was born in South Texas, recalled last week how he asked his staff to plan for the kind of growth he had already seen happen in Houston. It was clear, he said, that the Dallas Diocese needed to better respond to the needs of Hispanics.

The most visible result of a yearlong study was the creation of Santa Clara of Assisi Parish, a mostly Hispanic church in west Oak Cliff, and the construction of a community center there.

"I was condemned for 'building a country club for illegal aliens,' " Bishop Grahmann said last week.

Many other parishes also had large numbers of Hispanics. As the number of American priests declined, Bishop Grahmann turned to Colombia, Mexico, Ecuador, Venezuela, Peru and the Philippines to find Spanish-speaking clergymen.

"I wanted all of our parishes to be welcoming communities. I said all along that this is an immigrant church, like it was 200 years ago," he said.

Even some who disagree with the bishop in other ways agree that he succeeded in reaching out to the newcomers.

"The Dallas Diocese had really lacked any attention to the Mexicans and Latinos for years and years," said Albert Gonzalez, a funeral home owner who tangled with the bishop in 2003 over the sale and destruction of a historic Catholic school building. "He opened the door for us."

In 1990, the Rev. Rudolph Kos was, at least on the surface, a popular priest who had served in the diocese since 1981. He was also a child molester whose personnel file brimmed with warning signs.

But Bishop Grahmann never read that file, according to his testimony in the lawsuit. He let Father Kos remain in the ministry until 1992, despite additional warnings.The bishop said last week that he moved as quickly as he could against the priest.

"As soon as I had some proof that this happened, he was gone within 24 hours and never returned to ministry," he said.

The Kos lawsuit uncovered evidence that other abusers had been allowed to remain in ministry as well.

In 1999, the Vatican named Joseph Galante, a Philadelphia native then serving as bishop of Beaumont, Texas, as coadjutor bishop in Dallas. He was to govern alongside Bishop Grahmann and, presumably, succeed him.

Such transitions usually take less than a year, and some local Catholics hoped that would be the case here. But Bishop Grahmann refused to step aside early, and he and Bishop Galante wound up barely speaking to one another.

In 2002, Bishop Galante publicly criticized Bishop Grahmann for refusing to remove a prominent priest during another sex scandal. In 2004, the Vatican sent Bishop Galante to lead the diocese of Camden, N.J.

Bishop Grahmann said last week that he had made it clear to the Vatican and to Bishop Galante that he planned to stay until this year's big birthday.

The stalemate between the two bishops, along with continuing controversy about Bishop Grahmann's handling of sexual abuse allegations, led The Dallas Morning News to publish an editorial in November of that year calling for Bishop Grahmann's resignation.

James M. Moroney III, publisher of The News, went to the bishop's office the day before the editorial ran to tell him about it.

"He was very surprised, disappointed, upset to some degree," recalled the publisher, who is Catholic. "He asked me if we would reconsider."

Mr. Moroney said he replied that the newspaper would not reconsider. Bishop Grahmann, he said, "told me if he were me, he wouldn't want to have this issue to deal with when it came my time to face my judgment day. ... I felt like I was listening to one of my third-grade nuns at Holy Trinity."

The conversation hasn't stopped the Moroney family from giving to Catholic causes. Mr. Moroney's father, former News publisher James M. Moroney Jr., for example, donated $500,000 for a new bell tower at the Cathedral Shrine of the Virgin of Guadalupe – one of Bishop Grahmann's pet projects.

Last week, Bishop Grahmann said that priest abuse was a symptom of problems in the wider culture and that he did the best he could with the information he had.

"You have to follow the advice that's given to you. You have to trust in the expertise that is assisting you," he said.

"I've gone over many, many times and rehashed the procedures that we went through. And with different groups of people, other professional people," he said. "And no one recommended that there was another way out of it."

Bishop Galante declined to comment.

Over his 16 years, the bishop beefed up the diocese's official opposition to abortion by revving up the Catholic Pro-Life Committee of North Texas. He appointed a woman, Mary Edlund, as his chancellor – a first for the diocese. He was a fixture on interfaith boards, panels and presentations. He made public political points about the need for government to assist the poor.

As recently as April, he was a speaker at the gigantic pro-immigration rally in downtown Dallas. The demonstration started at the newly renovated cathedral. The bishop spoke to the crowd in Spanish and English.

Others working for the same causes as the bishop consider him a valuable ally.

"I count it as one of the privileges of my ministry to get to know him and get a chance to work with him some," said the Rev. Gerald Britt, co-director of Dallas Area Interfaith and executive director of Central Dallas Ministries.

Depending on one's opinion of Bishop Grahmann, the next Dallas bishop either has large shoes to fill or a mess to clean up. He will take over an office that is only getting more important – almost one-third of the total population of the nine-county diocese is Catholic, with the number continuing to grow. At the same time, he'll need to reach across divisions that linger in the wake of the abuse scandal. And the diocese still faces several pending or expected lawsuits.

Count Juanita Miramontes among those looking for large feet. A charter member of the Santa Clara parish, she started as a volunteer at the Calumet Community Center built, along with the new church, and is now the center's executive director.

"I hope he has the same passion as this bishop, the passion for this community," she said. "I hope he is as supportive of the things we are doing."

Count William McCormack among the critics. A partner in the law firm Fulbright & Jaworski, he was one of the leaders of an unsuccessful 2004 petition drive to get the bishop to step down over his handling of the abuse scandal. But he's more interested in the future than in chewing over the past, he said this week.

He'd like to see the next bishop open the chancery to a broader spectrum of lay Catholics, "taking advantage of the human assets of this community to run a more successful diocese."

The Rev. Michael Duca was temporarily shifted this year from his full-time job as rector of Holy Trinity Seminary in Irving to Immaculate Conception Catholic Church in Grand Prairie because the priest there was suspended after being caught with child pornography on his computer.

The next bishop needs to cast a unifying vision for the diocese, Father Duca said. "He has the advantage of riding above the past a little bit and moving forward," Father Duca said. "But you cannot ignore the past. It's not a past just attached to Bishop Grahmann. It's attached to our diocese."

The Rev. Robert Williams, pastor of Good Shepherd Catholic Church in Garland, is part of that past. He testified in support of the Kos victims who sued the diocese.

He suggests three goals for the next bishop: Working with immigrants (the once largely Anglo parish is now 80 percent Hispanic); digging out of the financial hole left by payments to abuse victims; and bridging the gap between the rich and poor.

The U.S. Catholic tradition has been to keep parishes independent financially, but that has left many in dire straits.

"We need to get away from that and recognize that the local church is the whole diocese," Father Williams said. Bishop Grahmann, he said, has encouraged but not mandated more sharing of resources.

That goal is on the outgoing bishop's own wish list. He sees a diocese split by money, one in which he says wealthy parishes offer far too little to churches struggling to get by.

"We have parishes with 40 or 50 employees, and other parishes that can't afford a secretary," he said.

Like some of his critics, the bishop suggests that his successor must be open to the laity. He says he has already set the example.

How does he balance his contention that he worked with lay Catholics with the highly public demands that he resign? Did he take those lay leaders and their demands seriously?

"Did I take them seriously?" he said last week. "I pray for them."

E-mail jweiss@dallasnews.com and begerton@dallasnews.com