Deacon, Teens Face Court Today

By Glenroy Sinclair and Keisha Hill
Jamaica Gleaner
July 12, 2006

http://www.jamaica-gleaner.com/gleaner/20060712/lead/lead2.html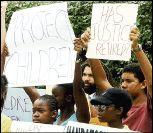 Protesters demonstrate outside the Church Dayton Diamond Ridge Monday.
Photo by Winston Sill/Freelance Photographer


A CHURCH deacon and three teenage boys, who are at the centre of a sexual molestation case, are expected to appear in the Corporate Area Criminal Court today.

The deacon, Donovan James, 47, James Rogers, 18, a 15-year-old youth and another teenage boy were last night slapped with charges ranging from cruelty to child, assault with intent to rape, conspiracy, aiding and abbeting, and indecent assault.

James, otherwise known as 'Uncle Jimmy, will face four charges.

While the police have confirmed that the deacon, who is affiliated with the Church Dayton Diamond Ridge, and the teenagers will be in court this morning.

Meanwhile, several groups and individuals, including the Attorney-General and Minister of Justice, A.J. Nicholson, have commented on the incident which has outraged the society.

"I have noted, with increasing concern, the reports in the media concerning the alleged sexual assault on a young girl, which was videotaped, apparently for commercial purposes," said Mr. Nicholson. "Both as Minister of Justice and as a father, I am horrified at the reports regarding what was done to this child, and worse, at the actions of the adults involved. Of course, we do not seek to pre-judge or to arrive at hasty conclusions.

"However, these are not 'internal' matters, as some persons have been quoted as saying, but serious offences punishable under the law. Persons have been taken into custody and investigations are under way. It should be kept in mind that it may amount to obstruction of justice to try to persuade persons not to cooperate with the police in these investigations."

In a statement issued last night, the Dayton Avenue church apologised for the deacon's involvement in the assault, saying, "We stand ready to do whatever is in our power to bring healing and restoration, including access to counselling."