Protesters Slam Church for Defending Deacon

By Daraine Luton and Keisha Hill
Jamaica Gleaner
July 11, 2006

http://www.jamaica-gleaner.com/gleaner/20060711/lead/lead8.html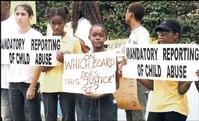 Placard-bearing protesters express their disgust outside the Dayton Avenue Church of God, St. Andrew, yesterday.
Winston Sill / Freelance Photographer


Members of civil society yesterday staged a peaceful demonstration in front of the Dayton Avenue Church of God, the worship centre of the deacon at the heart of the sexual assault case involving a teenage girl.

Bearing placards laced with stinging messages - one of which read 'Suffer the little children does not mean sexual abuse' - the more than 50 people who turned up for the demonstration voiced their anger at the church's reaction to and handling of the crime.

Many were incensed at comments from church founder Ruby Kelly, who in a Sunday service, chastised the whistle blowers in her congregation and suggested they would be punished by God.

Hillary Nicholson, of chief organisers Women's Media Watch, said the demonstration was staged in order to send a message that sexual offences should not be tolerated.

"We are not only demonstrating in relation to this particular case. Sexual offences are just not treated seriously enough," Ms. Nicholson said. "We are calling not just for legislative reform in relation to the actual sexual offences, we want the Government to put in place the registry of child abusers. We want mandatory reporting of sexual offences, we want the Government to implement a nationwide massive public education campaign so that people will know what the Child Care and Protection Act is about."

DISGUST

Lanny Davidson, of Fathers in Action and Fathers Crisis Centre, said he felt compelled to demonstrate because of the church's seeming defence of the deacon, instead of the victim.

"We totally disagree with that, and so we are voicing our disgust with this particular church for dealing with it in the way that they did," Mr. Davidson said. "Instead of defending it, they should have condemned it and reported it to the police immediately."

The deacon and the two boys held by the police, were up to last night, still being interviewed by the police. They are expected to be charged today.