Protest outside Dayton Avenue Church of God

The Jamaica Observer
July 11, 2006

http://www.jamaicaobserver.com/news/html/20060711T000000-0500_
108841_OBS_PROTEST_OUTSIDE_DAYTON_AVENUE_CHURCH_OF_GOD.asp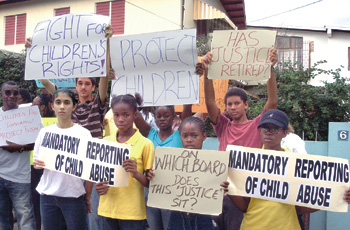 Photo by Bryan Cummings


Representatives from more than 14 organisations, led by Women's Media Watch, protesting yesterday outside the Dayton Avenue Church of God in Kingston, following allegations that a deacon of the church watched while a 14-year old schoolgirl was sexually assaulted in the back of a van he was driving.

"Carnal abuse is a crime"; "Should our children suffer sexual abuse and poor adult guidance?" "Leaders must protect and guide, not abuse"; "Enforce the Child Care and Protection Act"; and "Mandatory reporting of child abuse", read some of the placards.

Women's Media Watch programme co-ordinator Hilliary Nicholson told the Observer that the protest was organised jointly with the Jamaica Coalition for the Rights of the Child, Fathers in Action, and Jamaica Independent Council for Human Rights to draw attention to the blatant abuse of children.

The groups called for a national education programme on the rights of the child to prevent sexual abuse.

They are calling on government to ensure the enforcement of the Child Care and Protection Act.