Pope Picks Burke for Church Court

By Tim Townsend
St. Louis Post-Dispatch
July 10, 2006

http://www.stltoday.com/stltoday/news/stories.nsf/religion/
story/C09DC8DC5FBEF610862571A80016C6E0?OpenDocument

Pope Benedict XVI has named St. Louis Archbishop Raymond Burke to the Roman Catholic Church's supreme court, its highest judicial authority.

The Vatican's Supreme Tribunal of the Apostolic Signature, as it is called, hears appeals of select cases that cannot be settled in the church's lower tribunals.

"It's a very prestigious position to be named to," said Rocco Palmo, U.S. correspondent for The Tablet, a British weekly that reports on the Vatican. "It says the archbishop of St. Louis is still a national leader in the eyes of the church."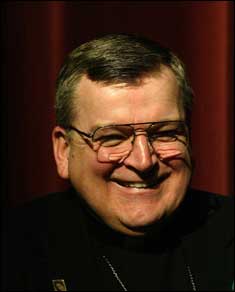 St. Louis Archbishop Raymond L. Burke
Photo by Huy Richard Mach/P-D


Many of the cases the dozen or so judges hear deal with disputes between Vatican departments. The tribunal also hears appeals of other cases - for instance, in parish closings, or the removal of priests for allegations of sexual abuse of minors.

Burke, a canon lawyer by training, has worked for the court before. He was the first American to serve as the tribunal's defender of the bond - the equivalent of the U.S. solicitor general - from 1990 to 1994.

Burke will serve the court from St. Louis, although he might have to travel to Rome for hearings, said Monsignor John B. Shamleffer, the St. Louis archdiocese's judicial vicar, or head canon lawyer.

Burke, 58, was named to the court Saturday. He was out of the country and unavailable for comment Monday.

Shamleffer said Benedict was "recognizing the archbishop's qualities" and believes he can help settle disputes.

One case that could come before the Supreme Tribunal is that of St. Stanislaus Kostka Parish, just north of downtown St. Louis. Late last year, Burke declared excommunicated the parish's lay board members and a priest they hired from another diocese.

"Given what happened with St. Stanislaus, this is a vindication of sorts," said Palmo. "It's a signal he's in good graces in Rome."

Shamleffer said that if the St. Stanislaus appeal ever went to the Supreme Tribunal, Burke would have to recuse himself.