Testimony Shows Man Took Teen Bride after 'Marriage' with Her Mom

By Brooke Adams badams@sltrib.com
The Salt Lake Tribune
July 8, 2006

http://www.sltrib.com/ci_4026754

Kingman, Ariz. — Compelling testimony about how polygamous marriages work, coupled with birth certificates, proved enough for a Mohave County jury to find a Colorado City, Ariz., man guilty of two sex-crime charges Friday.

The jury found Kelly Fischer, 39, had engaged in sex with a 16-year-old girl he took as a plural wife about six years ago and that it occurred in the home they shared in Colorado City. Prosecutors had contended Fischer, a member of the Fundamentalist Church of Jesus Christ of Latter Day Saints, conspired with Warren Jeffs, the faith's leader, and the girl's mother in arranging to have sex with her.

The jury took just over an hour to reach its verdict, despite the lack of testimony from a victim or a witness with firsthand knowledge of the crimes.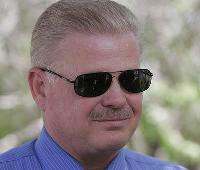 Mohave County Investigator Gary Engels smiles with relief after Colorado City, AZ resident Kelly Fischer is convicted of two felony counts: sexual conduct with a minor and conspiracy to commit sexual conduct with a minor. The trial was being held at the Mohave County Superior Court in Kingman, Arizona.
Photo by The Salt Lake Tribune/Trent Nelson



"The evidence was very direct in what conclusion we came to," said Debbie Henderson, the head juror, as she left the courthouse. "That made it really easy. The witnesses - all three - they knew what they were talking about."

Henderson also said birth certificates, which showed the girl was 17 when she gave birth to a child fathered by Fischer, were "definitely very good evidence."

Fischer was the first of eight men to stand trial on the sex crime charges, and Mohave County Attorney Matt Smith said he hoped the verdict sent a message to the polygamous FLDS community that straddles the Utah/Arizona state line.

"This case is not about polygamy. It is about underage sex practices and having sex with underage girls, and I think the jury in this county is speaking for the fact that that is not something that should be tolerated, no matter where it happens," Smith said.

He also praised the jury for being able to understand the conspiracy charge, saying that the only way FLDS men enter marriages with underage girls is if "Warren Jeffs puts his stamp of approval on it."

Jeffs is a fugitive, wanted on the same Arizona charges, as well as a rape-as-an-accomplice charge in Utah for his role in arranging and conducting underage marriages. He has been on the FBI's "Ten Most Wanted" fugitive list since May 6.

Fischer, a construction contractor, sat stoically as the court clerk read the jury's verdict, and he left the courthouse without speaking.

Judge Steven F. Conn will sentence Fischer on Aug. 4. The charges - sexual conduct with a minor and conspiracy

Kelly Fischer, of Colorado City, Ariz, leaves court in Kingman after his conviction. (Trent Nelson/The Salt Lake Tribune )

to commit sexual conduct with a minor - are class 6 felonies punishable by four months to two years in prison, or probation.


Kelly Fischer, of Colorado City, Ariz, leaves court in Kingman after his conviction.
Photo by The Salt Lake Tribune/Trent Nelson



Bruce Griffen, Fischer's attorney, said he will seek probation, with the possibility of dropping the conviction from his record in the future, as allowed by Arizona law.

Smith said victims usually are allowed input on sentences, but since the girl has not been located, he doubted "we'll have much luck in that."

Fischer is listed as the father of her first child, born in 2001, and Griffen did not dispute that. Instead, he challenged the lack of specific information on where she conceived the child - raising questions about whether Arizona had jurisdiction in the case - and who else might have had a role in authorizing the relationship.

But Smith returned over and over to one theme: exploitation of minors.

According to testimony, the girl's mother was "re-assigned" as a wife to Fischer around 1997-98 and moved into his home with her children. Her daughter - who would become Fischer's third wife - was about 13 or 14.

Isaac Wyler, then an FLDS member, lived down the street and worked with Fischer