D.A. Urged to Investigate SR Diocese
Victims' Group Asks Passalacqua to 'Seriously Consider' Charges against Bishop, 3 Other Officials

By Lori A. Carter
The Press Democrat [Sonoma CA]
July 7, 2006

http://www1.pressdemocrat.com/apps/pbcs.dll/article?
AID=/20060707/NEWS/607070305/1033/NEWS01

A group of sexual abuse victims Thursday urged Sonoma County prosecutors to "seriously consider filing charges" against four Catholic diocese officials whose delay in reporting alleged sexual abuse by a Sonoma priest may have allowed him to flee to Mexico.

Standing on the courthouse steps, members of Survivors Network of those Abused by Priests, or SNAP, implored District Attorney Stephan Passalacqua to investigate why it took Santa Rosa Diocese officials at least four days to report to authorities admitted sexual misconduct by fugitive priest Xavier Ochoa.

"We're here to beg him to make more aggressive efforts to prosecute this admitted child molester and church officials who knew what happened and failed to ... follow the law and call police," SNAP spokeswoman Mary Grant said.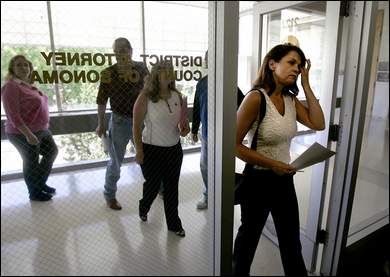 Mary Grant leads a group from the Survivors Network of those Abused by Priests into the District Attorney 's Office with a letter citing concerns over the Santa Rosa Diocese.
Photo by John Burgess/Press Democrat


Ochoa's "escape from justice may have been helped by five or more church employees," she said.

The four officials singled out by the group were Bishop Daniel Walsh, Msgr. James Pulskamp, the Rev. Frank Epperson and the Rev. Daniel Whelton.

In a related development at the courthouse, an attorney representing the three alleged victims said there may be as many as 10 other people molested by Ochoa.

Without providing details, Santa Rosa lawyer Michael Fiumara accused the diocese of offering people money and gifts in return for not reporting incidents involving Ochoa.

"People, representatives of the church, are calling day and night," he said. "This needs to be investigated. I supported Stephan Passalacqua in the election. I want to see vigorous prosecution."

Fiumara asserted the diocese has letters going back to 2001 from one victim's family complaining about Ochoa's conduct.

"The bishop is a lawbreaker," Fiumara said. "We have letters to the bishop saying, 'We want this man to stay away from our family.' "

Walsh consistently has refused to answer questions about abuse by the clergy, and on Thursday he did not return phone calls placed to his office. Diocese spokeswoman Diedre Frontczak categorized Fiumara's comments as a "pretty wild statement,"

"It's the first I've heard of it, and obviously that isn't the church policy," she said. "If there's a charge of some kind, something more specific, I could respond to it, but there's nothing in that to answer."

Sonoma County Sheriff's Sgt. Dennis O'Leary said Thursday his investigation has not turned up more victims.

Ochoa, 67, is believed to have fled to Mexico. A no-bail warrant has been issued for his arrest on 10 felony child-sexual abuse charges involving three victims.

State law requires certain people, including doctors, nurses, teachers and clergy members, to report child sexual abuse "immediately or as soon as is practicably possible by telephone" and to provide a written report within three days. Failure to comply with the law is a misdemeanor punishable by up to six months in jail and/or a fine of $1,000.

SNAP members called for Passalacqua to enforce the mandatory reporting law, focusing on comments last month from Assistant District Attorney Larry Scoufos, who said criminal charges stemming from a late sex-abuse report was "highly unlikely" because authorities don't want to discourage reporting of such incidents.

"We're convinced the assistant district attorney has it entirely backward," Grant said. "To not aggressively prosecute one or more of the Santa Rosa church officials, who so obviously and blatantly ignored California child sex abuse reporting laws, would be wrong. To not move quickly and vigorously in this case tells citizens that reporting child sexual abuse is not that important.

"What good is a law that's not enforced?"

Members of the group then delivered a letter outlining their concerns to Passalacqua's secretary and spoke in the lobby with Assistant District Attorney Christine Cook. Passalacqua is on vacation.

Cook told them there is no current investigation regarding the church officials' apparent delay in reporting the abuse. She said before prosecutors would take the case to a jury, investigators would need evidence of a "willful violation" of the law.

"While it may have been late, there was a report," she said.

O'Leary said the dates when church officials knew about the alleged abuse and when it was reported were included in investigative reports sent to the District Attorney's Office.

"Everybody wants blood on this one," he said. "But I don't think we're going to pursue it unless we hear that they knew about it for a month or something."

Frontczak said church officials will assist with any potential investigation.

"If he (Passalacqua) looks into it and has anything further to ask, obviously we'll cooperate and answer any other questions," she said.

She declined to comment on SNAP's calls for prosecution of church officials.

Walsh told parishioners in a letter that he was first advised of a "sensitive matter" involving Ochoa on April 27, as relayed by Epperson. Epperson called Whelton at the diocese office, who arranged a meeting the next day with Ochoa, Epperson, Walsh and Pulskamp.

Walsh said that at the April 28 meeting with Ochoa he immediately suspended the priest. The next day he notified diocese attorney Dan Galvin, who reported the matter to the Sheriff's Department on May 1. By the time detectives began looking for Ochoa on May 4, the priest had put his possessions in storage and apparently left town.

Court records identify three alleged victims of Ochoa. A 12-year-old boy allegedly stripped naked for Ochoa at his Sonoma apartment in April, apparently prompting the admission to Epperson.

Since that incident, two other people have been identified - a 27-year-old man who said Ochoa showed him gay pornographic videos and taught him to masturbate about 12 years ago in Cotati and a man in his 30s who accused Ochoa of molesting him repeatedly as long ago as 1988.