St. Elizabeth Ann Seton's Senior Pastor, the Rev. Millane, Is Retiring

By Dale Quinn
Arizona Daily Star [Tucson AZ]
July 6, 2006

http://www.azstarnet.com/allheadlines/136485

When he was 21, Thomas Millane stood in a smoky pool hall in Binghamton, N.Y., and realized there had to be more to life.

He approached his pastor and told him he wanted to become a Catholic priest. The pastor told Millane the church wasn't ready for him because he hadn't gone to college and had had a somewhat rebellious youth.

So he studied at a monastery in Massachusetts and eventually found his place in the Roman Catholic Diocese of Tucson.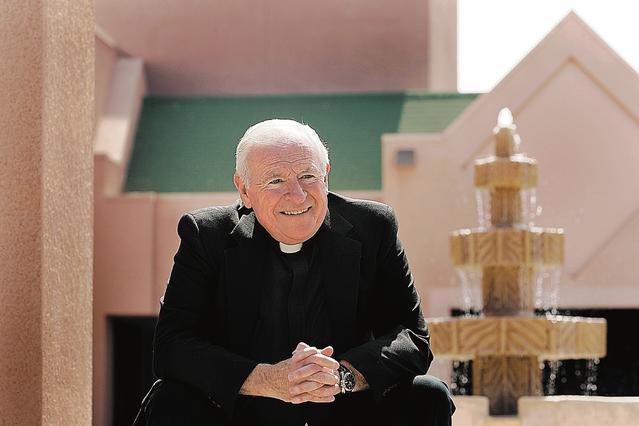 The Rev. Thomas Millane sits by a fountain near St. Elizabeth Ann Seton's school, which he started. When he set out to build the church, he often slept in his car as he had no home until the church was built.
Photo by Benjie Sanders/Arizona Daily Star


Millane, now 70, has been the senior pastor at St. Elizabeth Ann Seton Catholic Church, 8650 N. Shannon Road, for 26 years. About 20,000 Catholics worship at the Northwest Side church, which has more than 5,000 families as registered members, meaning they're on parish files and support the church financially.

Millane will step down as senior pastor on July 31, and the Rev. Joseph Lombardo will take over his position. Millane will continue to live at the church and serve as pastor emeritus, but he'll no longer be in charge of running the day-to-day operations.

"I don't have the energy I used to have," he said.

When Millane was first building the religious community, the Northwest Side was largely an open expanse of desert populated with miners. Church members squeezed into colorful chairs designed for kindergartners at Butterfield Elementary School, 3400 W. Massingale Road. Sometimes, Millane would sleep in his car and shower at friends' houses because he had no place to live.

But he never questioned whether or not he was in the right place.

"I had a vision this area would explode in population," he said.

Karen McEwen, the business administrator at St. Elizabeth Ann Seton, met Millane when the church was initially formed.

"He was personable and acted interested in each one of us," McEwen said. "He had an honest expression of what can the church do for you."

She said she was shocked when she learned he would no longer be senior pastor last year, fearing she wouldn't have time to prepare for his departure. McEwen had known Millane was going to retire soon, but thought he would stay on through the end of the year to make for an easier transition.

Recent visits by the new senior pastor, Lombardo, have eased her concerns, because he agrees with the direction Millane took the parish.

Faced trying times

Millane has faced trying times with the church.

In 2004, the Roman Catholic Diocese of Tucson filed for bankruptcy protection as it faced litigation regarding sexual abuse of children by priests.

Some of the cases stemmed from the sexual abuse of boys by a priest at St. Elizabeth Ann Seton in the 1980s. Millane said if he had known such things had taken place in his parish, he would not have tolerated it. He talked to those who were abused when they were older and they said it had devastated their lives.

The church needs to acknowledge and repair its wrongdoing, he said.

"We need to address it and face it and say we're guilty," he said.

Millane said as senior pastor, he is not completely innocent.

"I probably share a little bit of the guilt with my ignorance," he said.

Millane said the course of life is not an easy one, but he has tried not to let the challenges overwhelm him.

"Sin and death comes into our life, but you can't let it take you over," he said.

The pastor has also been able to participate in the joyous times in people's lives. He has married couples, baptized their children and then led the wedding ceremony when those children grew up and married.

"It's a humbling experience," he said. "That you're allowed to be a part of this family's life."

He's been with families during times of loss and when loved ones die. He said at those points, there's not much a person can say to ease another's pain.

"You don't say a word," he said. "Your presence says it all."

Millane takes particular pride in having formed the St. Elizabeth Ann Seton School, which opened in January 2003. He said he enjoys working with children and watching them grow into productive members of the community.

The school's principal, Suzanne Shadonix, said the pastor has been greatly supportive of the direction she has taken the school. The school, which will eventually teach students through eighth grade, was made possible because of Millane's drive, she said.

"Person of brilliant vision"

"One of the things I appreciate most about him — other than his innate goodness — is he's a person of brilliant vision," Shadonix said.

After his retirement, Millane plans to take a three-month vacation and visit Colorado and Texas. He will then return to the church and provide guidance if needed, as well as teach Latin to seventh-graders at the school.

From all his experiences with the church, one thing Millane learned is to try and find the good in people.

"God speaks through all the situations I see people in — good and bad — and when I'm in tune to that, I can be be a better person," he said.

Contact reporter Dale Quinn at 618-1924 or dquinn@azstarnet.com.