Pastor Bob Gray Arrested Again: Accused of Molesting a Boy Years Ago

By Jeannie Blaylock
First Coast News
July 6, 2006

http://www.firstcoastnews.com/news/mostpopular/
news-article.aspx?storyid=60563&provider=top

Jacksonville, FL -- The former pastor of Trinity Baptist Church, Dr. Bob Gray, has been arrested again on sex charges.

Gray appeared in court Thursday morning.

First Coast News has learned the new charges stem from a recent interview that JSO detectives had with a potential victim earlier this week.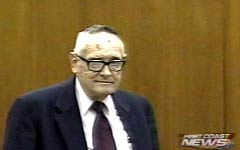 Dr. Bob Gray
Photo by The First Coast News


The latest person to accuse Gray of molestation is a man.

Gray already has been charged with three counts of capital sexual battery. He is accused of molesting three girls decades ago. The victims are now adults in their 30s and 40s.

More than twenty women have come forward with molestation claims since First Coast News began working with JSO sex crimes investigators and the State Attorney's office months ago.

Many of the women, who spoke exclusively with anchor Jeannie Blaylock, claimed church leaders at Trinity Baptist Church knew about the allegations and tried to sweep everything under the rug.

Trinity Baptist issued a statement from Pastor Tom Messer on its website. Messer informs the congregation that Dr. Gray has resigned as a Board Member and missionary with the Baptist Mission to Forgotten Peoples.