Breaking News: Priest on Child Porn Charges

Leamington Spa Today [United Kingdom]
July 3, 2006

http://www.leamingtonspatoday.co.uk/ViewArticle2.aspx?
SectionID=691&ArticleID=1603972

Detectives have charged Leamington's Catholic leader with child pornography offences.

Father Anthony Michael Jones, 55, who joined St Peter's church in Dormer Place in November, has been charged with 17 counts of making indecent images of children.

An inquiry began after police seized a computer from the church's parish office and Fr Tony was arrested on June 12 and released on bail pending further inquiries.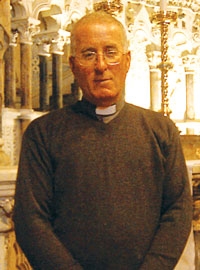 Father Anthony Michael Jones


Fr Tony, who leads one of the biggest and busiest parishes in Warwickshire and also attends governors' meetings at St Patrick's Primary School, has been at the centre of confusion about his whereabouts and rumours that he had 'disappeared' shortly after taking on the Leamington role.

Father Michael Vaughan from St Peter's told the Courier in February that Fr Jones had been away on holiday in Tenerife and was caring for his ill brother.

Later that month parishioners were sent a letter from Archbishop Vincent Nichols which read: "Fr Jones is well and is deeply concerned for the well-being of the parish.

"However, he recognises that the present difficulties he faces, which are personal to him, need to be resolved before he is able to return.

"It has become clear that this is going to take more time. I am sorry to tell you, therefore, that his absence will continue for some weeks yet."

Fr Jones was charged on June 30 and will appear before Leamington magistrates on Friday.