Gramick's charity to Shanley is more than he deserves

[A response to Finding Empathy for Shanley, by Jeannine Gramick, National Catholic Reporter (January 14, 2005). See also Orth's Unholy Communion, Vanity Fair (August 2002).]
By Maureen Orth
National Catholic Reporter
January 14, 2005

http://ncronline.org/NCR_Online/archives2/2005a/011405/011405o.php

Sr. Jeannine Gramick obviously has never read the 1,600-plus pages of the Boston archdiocese's file on Paul Shanley. I have. Had she done so before taking up his cause, she would have seen that there were complaints about Shanley's inappropriate behavior toward minor boys going back nearly 40 years and that the diocesan-appointed psychiatrist who finally examined him in 1994 concluded, "Fr. Shanley is so personally damaged that his pathology is beyond repair."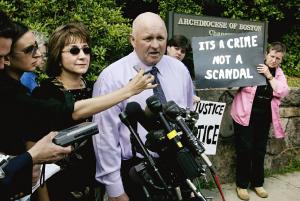 Paul[a] and Rodney Ford speak to the media after meeting with newly appointed Archbishop Sean Patrick O'Malley July 1, 2003, in Boston. The Fords' son Gregory claimed sexual abuse by Fr. Paul R. Shanley.
It is hard even to imagine, let alone understand, the callous disregard for these children, their parents and for Shanley's many parishioners displayed by the Boston hierarchy when confronted with his behavior through the years. Even more difficult to fathom is why Shanley's chief protector in the hierarchy, Bishop John B. McCormack, currently in Manchester, N.H., and others of his ilk still enjoy the perquisites of high church office. While the archdiocese was trying to negotiate with one accuser in 1994, for example, and two other allegations of abuse surfaced at the same time, Shanley, upon his retirement from the Boston archdiocese, received a pension and a letter of commendation from Cardinal Bernard Law. Law wrote: "For 30 years in assigned ministry you brought God's word and his love to his people and I know that continues to be your goal despite some difficult limitations." Shanley was eventually farmed out to California where he helped run a gay motel. The diocese to which he was sent was never told of his reputation, thus allowing him to strike again with impunity.
What a slap in the face to the victims. This constant protection and charity displayed by one member of the religious to another, this reaching out to the black sheep, trying to bring him back into the fold at the cost of ignoring those who have suffered the abuse. This blasé attitude toward the "others" not of the old-boy and old-girl network has been a hallmark of the church's current sex abuse scandal. It is as if Sr. Jeannine, clinging to her warm memories of the fight for gay rights waged with Paul Shanley at the barricades, obscures the facts of his case. Why hasn't the church displayed the same charity toward those whose lives have been ruined by predator priests like Shanley?
Sr. Jeannine has never spoken to any of Paul Shanley's accusers. I have spoken to nine who experienced their alleged abuse from ages 6 to 20, and they are still today in varying stages of damage and suffering. Out of the blue the other day I received a call from one of his victims who alleges the abuse began for him -- as it did with so many others -- when he sought Shanley's counsel because he was struggling with the fact he might be gay. He was 17 at the time.
"Use my body," Shanley instructed him. In his "wise" counsel the good priest offered himself up, asking the teenager to use his own priestly body to see whether he was gratified by gay sex. That encounter then went on to become a full-fledged relationship of several years' duration with a mentally fragile person who became dependent on the older man who manipulated and exploited him wantonly.
What was striking to me when I heard the story from this young man was that a few weeks earlier I had heard the identical story and the identical line, "You can use my body," from another accuser who was 20 years older and who lived in a completely different part of the country. There was no way they could have gotten together to corroborate stories or to have met each other.
The recent phone call was precipitated because the young man had to be re-hospitalized and is in desperate shape. When I asked him what happened to cause the relapse, he told me it was "the abuse, the abuse." He is haunted by it.
After reviewing the records, one can assume that Shanley's superiors knew or should have known that he was in California living with another gay priest and running a gay motel. That is when he carried on with this young man. Moreover, he and the other priest he was living with took vacations to Costa Rica and stayed in a notorious hotel that catered to those seeking "sexual tourism" with underage children. I was able to verify their passport entries into Costa Rica where they were required to state where they were staying. In my research I also reported about a current celibate gay priest who told me that when he was in Boston in the seminary in the 1980s, Shanley was known to be such a notorious predator that the seminarians were told by their older peers absolutely to steer clear of him. The list of his transgressions goes on and on.
Sr. Jeannine mentions that it is a tragedy that so much money the church could be spending for the poor instead has to go to paying off victims. I agree it would be ideal to spend the money in other ways, but where was the hierarchy's vigilance and concern that should have occurred throughout the years but did not? Where was its moral center? The Catechism of the Catholic Church teaches that when someone commits a transgression against another, justice requires that the harm be repaired and the injuries be compensated. For someone like Sr. Jeannine to make fatuous statements about Paul Shanley's presumed innocence without a real knowledge of his actions -- or of the church's doing absolutely nothing to stop him for over four decades -- is not only sad, it is shocking. Her charity is glaringly misplaced.
Maureen Orth is a writer for Vanity Fair. She wrote a profile of Paul Shanley for the magazine's June 2002 issue.