Beyond the Boundaries: Retired Priest Leaves a Trail of Wounds and Grief across Region

By Kenton Robinson
The Day [New London CT]
March 14, 2004

West Hartford - It is hard to believe the stories told of this frail, shapeless man who sits in this dark, narrow room at the St. Mary Home.

His skin is mottled and papery thin, his eyes a pale and watery blue. He must use a walker to cross the six feet from his chair to the bathroom.

But Father Thomas W. Shea has been accused of molesting at least 16 girls in the 11 parishes where he served in the Catholic Diocese of Norwich.

Those alleged victims who agreed to be interviewed say that Shea left behind a wake of depression, alcoholism and attempted suicide.

The diocese says he is a priest who, while serving under three bishops from 1953 to 1983, somehow slipped "under the radar," because his behavior was continually recorded as "prolonged kissing" and not sexual abuse.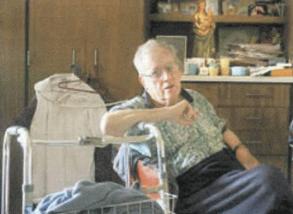 Thomas W. Shea, in his room at the St. Mary Home in West Hartford, has been accused of molesting 16 girls in 11 parishes in the Norwich Diocese. Photo by Suzanne Ouellette.
Shea says he was only showing affection for his parishioners, and his affection was misunderstood. He does not want to be one of those "evil men you read about in the newspapers."
Last month a New London woman, Donna Rolfe Walker, broke a silence of 35 years to allege that Shea molested her when she was 12 years old. Before going public, she went to the diocese last fall. She told her story, and she wanted to know about Shea.
Deacon Al R. Fecteau, the bishop's delegate for internal investigations, wrote to Walker assuring her the diocese was investigating the matter, but he would not reveal the retired priest's whereabouts.
He was, Fecteau wrote, in a convalescent home, so incapacitated that "interaction with Father Shea would serve little purpose due to his physical condition."
But Shea, crippled though he is from a stroke, remembers most of his 82 years with remarkable clarity, down to the minutia of names, places and conversations' blow-by-blow. And he says that no one from the diocese has ever spoken to him about Walker's complaint.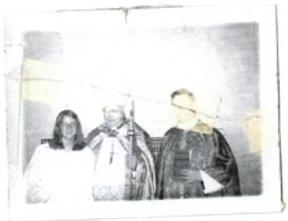 In this faded, torn and taped snapshot from 1969, 12-year-old Donna Rolfe Walker poses with Bishop Vincent J. Hines (center) and Father Thomas W. Shea on the day of her confirmation. Walker says she can't remember how or when the picture was torn, but she says she can't forget being molested by Shea.
Surrounded by a clutter of clothes hung on hangers from the pulls of cupboards and chests of drawers, and shelves of family pictures and hoarded cups of orange juice, Shea proudly describes how his family came from Ireland to New Brunswick, Canada, and then moved down to Bangor, Maine, where he was born in 1921.
His family moved to Hartford when he was 4, and he reminisces about his parents' house in the South End.
He recalls his first assignment after his ordination on June 29, 1946: chaplain at a girls' Catholic summer camp in New Hartford.
He smiles to remember it. And he sings a few bars of "Aviva Maria," an Italian song he taught the girls.
Fifty-eight years later, he still remembers the street address of that camp, the name of the nun who ran it, where she went to live in Pennsylvania, and the year and cause of her death.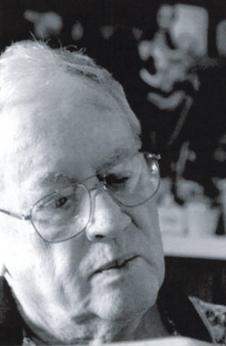 Retired Roman Catholic priest Thomas W. Shea. Photo by Suzanne Ouellette.
Shea's memory only seems shaky when he is asked about the girls he allegedly molested. He closes his eyes and rocks from side to side in his chair, hand to his head, searching for something lost.
"I know there was the first one up in Rockville," he says.
She was a 10-year-old girl at St. Bernard Church in Rockville, "a very, very smart girl," he says. Her father objected to the way Shea kissed his daughter.
"The father advised against on-the-lips, because he didn't want her to get used to it. But still there was a basic trust and liking between myself and the family."
That ended, he says, when he took the girl and her brother for an outing on Amston Lake.
"I discovered that the girl had a very skimpy bathing suit – it didn't hide much – and I took a picture. Because if you go to an Italian museum in Italy and you see statues in museums, it can make the concept rather vague of what is and isn't wrong, you know?
"And so that occasion was the occasion for taking me out of Rockville. And the wife said, 'I hate you. If you weren't a priest, I'd have you arrested.'"
Photography would become a life-long interest. "I was very good at picture-taking," he says.
Women who claim Shea molested them describe him carrying an album of photographs of the children of families he visited.
Shea says he had more than a dozen such albums, but they were lost when he had his stroke in 1998 and had to move from his mobile home in Brimfield, Mass. That's when he came to St. Mary Home, a redbrick convalescent home set back from Albany Avenue in West Hartford.
Joseph Sweeney, a Hartford lawyer who represents the Norwich Diocese, says the diocese has no record of the Rockville complaint, but that might be because it happened around the time the diocese was created, by papal decree, on Aug. 6, 1953.

After the incident in Rockville, Shea was transferred to St. John the Evangelist Church in Montville in 1953, but his stay was brief.
The following year, Bishop Bernard J. Flanagan, the first bishop of Norwich, since deceased, assigned him to St. Mary Star of the Sea Church in New London.
There Shea allegedly sexually assaulted two girls, third- and fourth-graders at St. Mary's school.
"He used to come down into the playground," recalls one, who asked to be called only V. "That was where we first met him. And I remember my sister made some joke about a duck or something. And the next thing you know, he wanted to know her name and he showed up at our house."
Soon enough, V. says, Shea was fondling and French kissing them. They would run and hide whenever they knew he was coming.
V., a schoolteacher in her 50s today, recalls one time when they were hiding in the woods behind their home and the priest came after them.
"When he arrived at our house he would stand there and take off his roman collar and just be in his undershirt," V. says. "And I saw him coming down the hill into the woods, and I was very upset that he would actually come down there looking for us. I remember him picking up my younger sister and bringing us all back to the house."
V.'s mother is deceased, but her aunt, who lives in Maryland and asked that her name be withheld, says that while she never saw the priest French kiss the children, he would French kiss the women.
"We met him when we would visit my sister and her husband and family in New London," she says. "We were of course of a school and upbringing where the clergy was respected. When he greeted us, my sister and myself, there were these long moist kisses that we did repulse. We would pull back. I did regret later not putting a stop to it immediately, but I felt that this would be a very disruptive moment in someone else's house."
Shea characterizes those kisses in another way.
"I would show what I considered a reasonable affection by whatever norms I had to work with," he says. "I would just give them a simple kiss."
He says he does not remember putting his tongue in their mouths, and he denies fondling them.
"It was this way," he says. "In the seminary we never studied physiology, biology, psychology. I remember a few months before I was ordained, I went down to a bookstore in the center of Hartford. There was a book about anatomy and physiology. I picked that up at that time."
He blames the bishops for failing to make sure their priests were taught such social nuances as the proper way to greet a woman. And he compares his behavior to the kind of social gaffs that can occur between people from different cultures.
"There are people in the Spanish culture where they are suspicious of any man who even compliments their wives," Shea says. "Unless somebody someplace along the line tells you, how are you going to know?"
Sweeney, speaking for the diocese, says there are no records of any complaints concerning Shea's behavior at St. Mary.
In 1958, Bishop Flanagan transferred the priest to St. Patrick Church in Mystic. During his time there, in 1961, Shea paid a visit to the family of K., V.'s cousin, at their home in Massachusetts.
K., who also asked for anonymity, was 8 years old at the time. She knew and dreaded Shea, she says, from her visits to her cousin's.
"Every time I encountered him," she says, "he was tongue-kissing and feeling us up."
Now 50, K. lives in Maryland and is a professional sex therapist. She recalls, "What always stood out to me was his large full lips and his licking them, wetting them. He was large bellied and just always touching people.
"It's like the grooming behavior that a typical sex offender does. They gradually begin getting you familiar with their presence, then they begin touching you, maybe patting you on the head, then getting gradually more intimate and frequent, kissing you on the mouth, patting you on your butt. It's a process of gradual desensitization that they use so that the victim becomes accustomed to the intrusion and no longer considers it unusual."
On that visit to Massachusetts, Shea asked to stay the night. After her parents had gone to sleep, K. says, he came and took her into his bed.
"I just recall being carried from my room to his bed and his instructing me how to masturbate him, making sure there was enough lubricant and rubbing," she says.
Shea remembers the visit but is foggy on details.
"It was in the middle of the night," he says. "I don't think I touched her in any wrong way. Maybe she figured that was what I wanted. ... I'm not sure what the intent was at the time. But like I say, it was in the middle of the night."
K. never told anyone about the incident until she began doing therapy in college.
The diocese, says Sweeney, has no record of complaints about Shea during his time in Mystic.
The first complaint about Shea recorded by the diocese came in August 1965, when someone at St. Stephen Church in Putnam was upset about the priest's displays of affection for two girls. One girl was young, but no age was given, and the other was 15.
Shea had been transferred to the church in 1963 by Bishop Vincent J. Hines, the second bishop of Norwich, since deceased.
The diocese's response, Sweeney says, was that "Father Shea was spoken to and some behavior modification was sought." The records give no details on the nature of that treatment.
Shea was not removed from his parish duties, Sweeney says, because his behavior "wasn't viewed so much as a sexual issue as a social boundaries issue."
The complaints were of "prolonged" kissing and hugging. That, Sweeney adds, was perhaps seen as "unbecoming conduct" but "not necessarily hazardous."
"We were dealing here with a guy who was rather gauche in his social interactions with women. His kissing was more than a routine peck on the cheek. ... But this was not recognized as a serious kind of thing, as a sexual molestation thing would be."
There is no indication in the records, Sweeney says, that the diocese interviewed the alleged victims or the person who complained.
Shortly after Bishop Hines transferred Shea to Our Lady of Lourdes in Gales Ferry in 1969, the priest allegedly molested Donna Rolfe Walker, then 12, and her 10-year-old sister. He would visit their house when their father was at work and their mother was in the hospital.
Walker's accusations echo those from others: He would French kiss and fondle.
Betty Rolfe, their mother, recalls hesitating before she complained to the Rev. Dennis G. Jarry. Jerry, now dead, was also serving at the church at the time.
"I feel kind of guilty about all this, because nowadays everybody complains about things like this," says Rolfe, who lives in California. "When I was child I was brought up with the idea that a priest was somebody divine."
Walker remembers she and her sister would lock the doors and hide when the priest came to visit. She thinks other girls in the neighborhood did the same.
Shea says he has no memory of Walker or her sister. Or of any of the other girls who have alleged he abused them while he was in Gales Ferry.
"I don't remember that, and I don't think it's so. It's misleading. I remember, for example, reading in a theology book in Latin, 'Is it a sin for a mother to kiss her small child?' And the answer that was given was that it was at least a venial sin because it's not necessary. I didn't agree with that opinion."
Shea says he believes the reason for his expulsion from Our Lady of Lourdes was political.
"When I first came, I got a book on the Navy, given to me by a couple. And the wife had inscribed, 'Welcome to our parish and welcome to our family.' And I remembered vaguely in the past somebody had said, 'Be very wary of people who come to you first when you come to a new place. They've often got a hidden agenda.'"
The woman who inscribed that book, Shea says, really wanted to run the parish.
"She was intelligent. She was beautiful. She could be charming. But there were times when her idea would be contrary to what I considered to be diocesan policy."
And, he says, because he would not allow her to control the parish, "she lied about me" to Bishop Hines. "She said, 'He's been fondling the children.' She said something to the effect that, 'They're all afraid to have him come to their house.'"
The diocese's file on Shea, says Sweeney, has no record of complaints made in Gales Ferry.
In 1973, Bishop Hines placed Shea on "sick leave." During this time, according to Sweeney, the priest again was given behavior modification treatment for "social boundaries" problems.
The treatment was by a private practitioner. Again, the records offer no further details on the treatment. And again, Sweeney stresses that none of the complaints was described as of a sexual nature.
"This prolonged kissing and hugging were viewed as socially out of order," the lawyer says. "They tried to get him back in order, but it was a chronic problem of falling off again, like an alcoholic falling off the wagon."
From Shea's perspective, however, it was the bishop who was guilty of wrongdoing.
Bishop Hines, he says, defamed him. He remembers the bishop telling him, "'if you can find anyplace that is willing to take you...' He had defamed me so much that he didn't think that there would be anybody willing to have me."
So, Shea says, he spent some time helping out the pastor at St. Mary Mother of the Redeemer in Groton. "It was a part-time thing, where I would work on weekends."
Soon he was sent to St. Peter Church in Higganum. But he did not stay long. He was removed in 1974, after parents there complained of his habit of kissing and hugging their two daughters, ages 8 and 10, Sweeney says.
Thereafter, the priest was listed as on "sick leave" until 1976, when Bishop Daniel P. Reilly, the third bishop of Norwich, assigned him to St. Joseph Church and Sisters of Mercy School in New London.
Over 200 children were enrolled in the school.
Shea was placed under the charge of the Rev. Monsignor Paul J. St. Onge, who was instructed to make sure Shea stayed away from the children.
"He was put under real restrictions at St. Joes'," says Sweeney, "and the problem seemed to be under control."
Two women remember differently.
C., who asked that her name not be used, remembers Shea always had kids around him and was always taking photographs. "He's disgusting," she says. "I think he got into the priesthood for one reason and that was to be near children."
V. describes one day when Shea coerced her into posing in her bathing suit.
"I remember him showing up at Rocky Neck when we were having a family outing, and I didn't feel very comfortable in my bathing suit."
But Shea had his camera, she says, and he insisted on taking a picture of her sitting on a post.
Often, diocese records don't jibe.
In 1979 Bishop Reilly placed Shea on the list as "absent on leave" and "on duty outside the diocese." In fact, he was assigned to St. John Church in Norwich at the time.
It was there, in May of 1980, that he was the subject of another complaint, this one involving an 1 1-year-old girl and a 13-year-old girl, Sweeney says. Again, the diocese's files show he "was under the care of some mental health professional," but they give no details.
"My impression is that when it was a matter of sending a priest to an individual mental health professional in private practice, these people didn't send out formal reports," Sweeney says. "My impression is that it was more like an oral report."
In 1982, Bishop Reilly transferred Shea to St. John the Apostle Church and the Daughters of the Holy Ghost School in Plainfield, where there were nearly 200 children enrolled.
There is no record of complaints at Plainfield, according to Sweeney.
Shea remembers differently. He got in trouble for dancing with a young woman.
"I had gone to a parish-sponsored dance, and when I came in there was this young lady. Nice. She said I enjoy your talks very much.' And I said, 'What is it you like?' And just about then the music started and we danced. And I was telling her about the release of the spirit."
The next thing he knew, Shea says, Bishop Reilly called him into his office.
"And he read me a letter and it was signed by... two couples. ... I said, 'What is their name?' And he said, 'Oh, it wouldn't do you any good to talk to them. It might do me some good to talk to them, but it wouldn't do you any good.'
"And the sense I got out of it was that he had not even talked to them. And the letter said, 'He gives good sermons. He reaches out to everyone.' But they were suspicious of an unusual interest in some certain young women."
It was on Holy Saturday, in April 1983, that Shea's ministry came to an end.
K., a grown woman, finally told her parents the story of the night Shea allegedly made her masturbate him. And her cousin V. told her parents of how he had marred her childhood. Both of their parents then wrote to Bishop Reilly to complain.
Reilly's response was to ask if they would be willing to confront Shea. On Holy Saturday, they did.
"I remember when the bishop called me in to Norwich," Shea says. "1 believe it was to his residence, and I was surprised. And I somehow thought it wouldn't be good." K., he remembers, "was extremely angry still. And she said, 'Don't tell me you're still wearing the collar.'
In describing that encounter, V. says that Shea denied everything "and kept denying it. It was a lengthy meeting. There was a lot of silence and a lot of pain. And eventually, he finally admitted that he did those things.
"I remember Bishop Reilly saying to him, 'Why? How could you do all this? Don't you think there was something wrong?'
"And Father Shea said he believed he had a special relationship with us."
K. remembers, "He acknowledged it ... but I don't believe that there was any genuine remorse."
Bishop Reilly, who retired last week as the bishop of Worcester, Mass., declined to comment for this story.
In July 1983, though, he removed Shea from the ministry. He sent him to St. Luke's Institute in Suitland, Md., for treatment. St. Luke's is a common destination for priests accused of sexual abuse. Shea didn't like it there.
"There was a nun who was a counselor," he recalls, "and I would get about an hour a week. And this was much too slow I figured. I wanted to get back to my regular work."
He arranged a transfer to the Servants of the Paraclete in Jemez Springs, N.M., another place where priests accused of sexual abuse are sent for treatment. But he soon returned to New England, taking up residence in Brimfield.
For Sweeney, the minute the diocese became aware of an allegation of sexual abuse, the bishop took quick and decisive action.
As to the years of complaints leading up to that decision in 1983, Sweeney cautions, "I think a lot of this has to be viewed in the context of the times in which it occurred. Things that would stir things up now would not reach the radar then."
For his alleged victims, Bishop Reilly's actions were too little too late.
Donna Rolfe Walker talks about fighting her way through alcoholism, repeated attempts at suicide and continuing depression.
C. bursts into tears when she talks about Shea.
The cousins, K. and V., each describe bouts of depression. K. says she has been unable to sustain a healthy relationship.
"He came and visited in our home," says K.'s mother. "He abused our hospitality. We didn't find out until the '80s. When it did come out, my first reaction was revulsion to the point where I wanted to go and vomit somewhere. That's when my husband and I wrote our letter to the bishop."
For his part, Shea claims he never committed a crime.
"There are things that I wish I hadn't done. The fact is that there are some of these things that they ought to have taught us in the seminary but didn't teach us."
He expresses sorrow about what happened with K. and the girl in Rockville.
"They were people that I cared about very, very much. And there was an awful lot of hurt, and not just on their side, a lot of pain."
In that suffering, he says, as well as in the physical pain he now endures, he feels his God is testing him. Shea pauses, then asks, "Have you ever read the Book of Job?"

Tracking Father Shea through His Many Parishes
The following is a timeline for the career of Father Thomas W. Shea. It is based on back issues of The Official Catholic Directory by P.J. Kennedy & Sons, interviews with Joseph Sweeney, an attorney for the Norwich Diocese, and an interview with Shea.
June 29, 1946: Shea, 25, is ordained at the Cathedral of St. Joseph in Hartford, after attending St. Thomas Seminary in Bloomfield.
1946: After ordination, Shea serves for eight weeks as chaplain at a Catholic girls summer camp in New Hartford.
1946-1949: Shea serves at St. Mary Church in Simsbury, Our Lady of Perpetual Help Church in Washington Depot, and Holy Angels Church in South Meriden.
1950-53: Shea serves at St. Bernard Church in Rockville.
1953: Shea is assigned to St. John the Evangelist Church in Montville.
1954-1957: Bishop Bernard J. Flanagan assigns Shea to St. Mary Star of the Sea Church in New London. 1958-1962: Bishop Flanagan transfers Shea to St. Patrick Church in Mystic.
1963-1968: Bishop Vincent J. Hines assigns Shea to St. Stephen Church in the Quinebaug section of Putnam.

1969-1972: Bishop Hines transfers Shea to Our Lady of Lourdes in Gales Ferry.
1973-1975: Bishop Hines places Shea on "sick leave." During this time, Shea serves at Mary Mother of the Redeemer Church in Groton and St. Peter Church in Higganum.
1976-1978: Bishop Daniel P. Reilly assigns Shea to St. Joseph Church and Sisters of Mercy School in New London.
1979-1981: Bishop Reilly places Shea on the list as "absent on leave" and "on duty outside the diocese." During this time, Shea serves at St. John Church in Norwich.
1982-1983: Bishop Reilly transfers Shea to St. John the Apostle Church and the Daughters of the Holy Ghost School in Plainfield.
July 1983: Bishop Reilly removes Shea from the ministry. Shea is then sent to St. Luke's Institute in Maryland and then transferred to the Servants of the Paraclete in New Mexico.
1985-1997: Shea, listed as "retired," lives in a mobile home in Brimfield, Mass.
1998-2004: Since having a stroke in 1998, Shea has lived at the St. Mary Home in West Hartford.